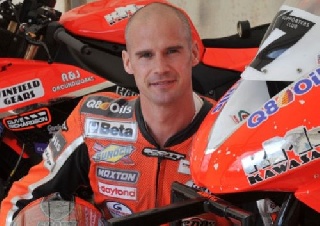 Trevor Ferguson, 48, from Castlecaulfield in Co Tyrone, lost his life after he crashed while competing on one of Farquhar's KMR Kawasaki machines in the Supertwin race on the Isle of Man.
One of Northern Ireland's most decorated road racers, Farquhar had earlier claimed his 10th Manx GP victory in the Senior Classic event, but a day that began with so much promise ended in the most heartbreaking circumstances.
Farquhar – who was due to compete in Friday's Classic Superbike race at the Manx Grand Prix – says he is no longer willing to take the inherent risks involved in road racing after witnessing the devastating effects of his uncle's fatal accident on Mr Ferguson's wife and three children.
Fighting back tears, Farquhar said:
"I'm finished with racing. I've been racing a long time and I've lost a lot of friends in that time, but it's different when it comes to your own doorstep.

"What I have witnessed in the past 24 hours I've never seen before."It's the people who are left behind who suffer the most.

"Trevor probably didn't know anything about the crash, but the people left behind are hit the hardest,"
said the 36-year-old.
"His wife and girls are in pieces. I don't ever want Karen and my two girls to ever have to go through something like that.

"This is a sport I love but I can't risk putting my family through something like that any more – I have to think of them.

"I don't even know if I'll be able to even run a team in the future,"
he added.
"I need to sit down with Karen and talk it over and see where we go from here."

In a cruel twist of irony, Dungannon competitor Nigel Moore went on to win the ill-fated race on a second of Farquhar's machines.
Farquhar – the most successful rider ever in the history of Irish national road racing and a multiple winner at the Isle of Man TT, North West 200 and Ulster Grand Prix – said he "wished I'd never offered the bike to Trevor".
"I'm lost for words – I wish I hadn't offered Trevor the bike.

"I'm just absolutely gutted,
" he added.
"I went up today to where the accident happened at The Nook and laid some flowers.

"I keep thinking if I hadn't offered him the bike and he'd been on his own bike then maybe it wouldn't have happened, but life is all ifs and buts.

"This is going to be a very tough time for Trevor's family but I'm going to be there for them.

"He wasn't just my uncle, he was a really good friend,"
Farquhar said.
"I don't think it has even really sunk in yet to be honest."

Farquhar, from Killyman in Co Tyrone, expressed his heartfelt gratitude to the organisers of the Manx Grand Prix for their support in the wake of the tragedy.
"On the behalf of myself, my family and my team, I just want to pass on our sincere thanks to the Manx Motor Cycle Club because they have been so supportive and have given us so much help – they couldn't do enough for us,"
he said.
"Everyone has rallied around and I want to thank the medics as well who worked on Trevor and everyone who has been there for us."
Farquhar had already vowed to scale down his racing activities in 2013, setting a target of reaching 200 Irish road racing victories.
He currently has 199 wins and could have reached his goal at the Killalane meeting in September, the final Irish road race of the season.
This year, Farquhar won the inaugural Supertwin races at the North West 200 and Isle of Man TT and was also victorious in the class at the Ulster Grand Prix earlier this month.
.