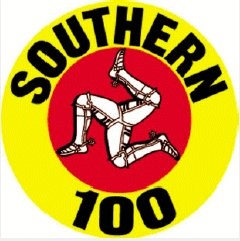 The Liverpudlian repeated his initial victory again the following year, 1956 and took the title for the third time in 1958 all on Norton machines.
Terry Shepherd first rode in the Isle of Man at the 1953 Clubmans TT finishing 23rd, returning in September for the Senior Manx Grand Prix, claiming sixth place. Moving to the TT in 1954 he rode each year, mostly on Norton's recording a best third position in the 1959 Formula One Race.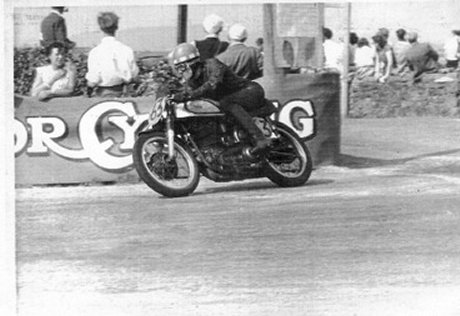 Terry Shepherd
Rounds Castletown Corner
on his way to the first 500cc race win
at the Southern 100 in 1955

His world championship career commenced in 1957 at the West German Grand Prix and continued through to the end of the 1959 season at the Ulster Grand Prix having nine starts and two podium places. His highest world championship placing was eighth in the 350cc class in 1958.
Terry with his wife was one of the guests of honour at the 40th anniversary Southern 100 Road Races in 1994 completing a number of laps in a Morgan three-wheeler.
One of the characters of road-racing he will be missed by all who had the pleasure of his company over the years.
Southern 100 Racing express their condolences to his family and friends at this sad time.