The TT Supporters Club celebrates its 40th Anniversary at TT 2013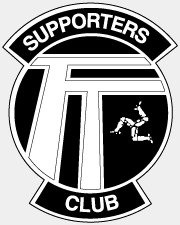 So, what's going on at this year's event ? You'll find Rose Hanks and her team in the Club Shop located in its now traditional position in the Market Area at the rear of the Grandstand…on sale will be souvenirs, memorabilia, badges, TT programme and, ..... of course
You'll be able to join the Club or renew your membership. Members receive the 52 page, glossy Summer 2013 issue of the Club Magazine, which includes a fine array of topics….Mike "Nibbo" Niblett relives his first TT experience of last year as do the brother sidecar pairing of Mark and Lee Saunders, who amazingly only got together part way through practice week. IoM Motorsport Manager, Paul Phillips gives frank replies to our questions, Brandon Cretu adds an international flavour as do Dutch riders, Michael Hofman & Peter Heijmans who began their IoM road racing journey by entering last year's MGP. The Magazine continues to follow the progress of Ivan Lintin, who, after achieving success between Irish hedges, is now in with a serious chance of securing a TT podium. A more poignant article, perhaps, concerns Club President, Charlie Williams, sadly not at he event in an official capacity this year, who looks at how the TT is 'now moving with the times'…and, finally, we look at the achievements of one of the jewels in the TTSC crown - Rose Hanks, our Club Secretary, who was the first lady competitor to step onto the TT rostrum.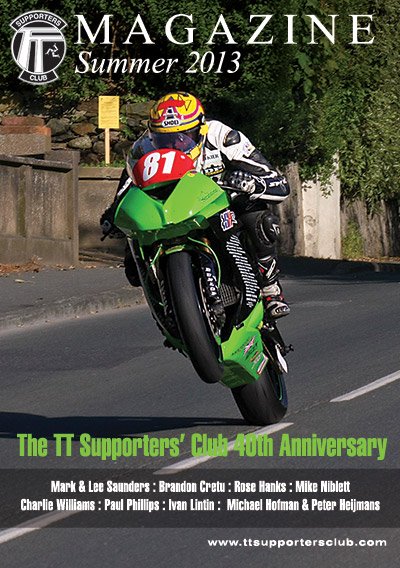 Competitors who are members of the Club call into the shop to collect their gift package specially designed TTSC branded hoodies, chain sprays, cable ties, duct tape, etc, the total value of each package being in excess of £45. Fire retardant overalls are available at greatly discounted prices for competitor/ mechanic members
As in previous years, competitors will collect energy supplements gels from the TT Riders Association office the TTSC works with the TTRA, donating £1000 to this cause
The Riders Draw will be held live on Radio TT - six prizes are up for grab - £350, £250 and four of £100. The Club is hopeful of continuing its physiotherapy service for competitors.
The Susan Jenness Trophy - awarded with respect to the most meritorious performance, in the eyes of the TTSC Executive Committee, by a female competitor in the TT - will be presented to Debbie Barron, for her fantastic efforts in last years event. It is hoped that Mick Jenness will be on hand to present the award which is in memory of his wife, Susan who lost her life whilst marshalling a UK off-road even some years ago. Who will be the deserving recipient for TT 2013?
Riders in the two Supersport races will be vying for the TTSC Trophy - a silver tray on a plinth. Cameron Donald is currently in possession of the trophy, awarded for the lowest aggregate time across the two Supersport races.
Enjoy your - TT remember to visit us in the TTSC Club Shop