The popular Welshman has announced this week that the 2013 event will be his last round the famous circuit, bringing the curtain down on a truly remarkable TT career.

The man who holds the record for the most TT race starts, first graced the Mountain Course at the 1983 Manx Grand Prix taking third in the Newcomers race behind Robert Dunlop and Steve Hislop, and he made his TT debut the following year. To get a sense of perspective on how long Ian has been entertaining us at the TT, this was the year Bruce Springsteen released Born in the USA, Cyndi Lauper's Time After Time was in the UK Singles Chart, and Martina Navratilova, Chris Evert, John McEnroe and Jimmy Connors were in the Wimbledon Singles Finals.

His podium finish in the Historic TT on a Matchless and a seventh in the Production 1000 race on a 250cc Suzuki that year were only a foretaste of bigger things to follow in the years that lay ahead.
Ian had to wait another six years for his first TT win though, in what is still to this day ranked as one of the classic moments in the history of the TT. No-one present at the time could forget Ian, armed with faithful sponsor Ray Cowles' 250 TZ Yamaha, taking over 38 seconds off the existing lap record and also smashing the race record to beat pre-race favourite and great friend Steve Hislop by 1.8 secs in the 1990 Isle of Man Junior TT.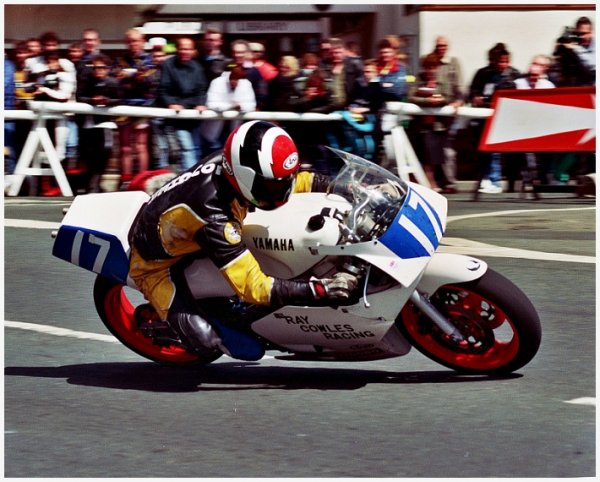 It was perhaps fitting that Ian should break the news of his TT retirement at the 'Hizzy's Honour' evening where he rightly received a standing ovation.
Ian went on to win another 9 TT's with his last podium on the TT circuit coming in 2006 where he was second in the Superbike race. He added more TT titles to his list though when in 2008 and 2009, he won a total of three races at the last two-stroke TT races held over the Billown circuit. He also surpassed the great Joey Dunlop's feat of 11 wins at the Billown Post TT meeting when he won the 600 race last year.
Ian has ridden virtually every make and size of motorcycle over the TT circuit, and in 2003 he rode the ex-Colin Edwards World Superbike factory SP-2 Honda to second and third in the Formula One and Senior TT's respectively.
Some of the many tributes paid to Ian since his announcement, particularly on social media sites sum it all up perfectly.


'A true racer...respect', 'great career and an inspiration to many younger riders', 'all round good guy' and lastly..........
'Thanks Ian. You are a brilliant ambassador for road racing and the Isle of Man TT races.'