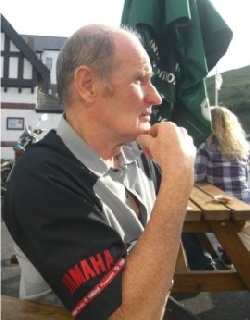 Headlined by the popular 'Phantom's' Group which played to a packed house, the organisers Muriel Cooil and the family of Robert, wish to record their appreciation to all who attended and bought raffle tickets for the numerous prizes donated.
Muriel and Robert's family would also like to thank the committee of the Morton Hall for all their help, Jimmy Maddocks and The Phantom's for their wonderful music.
They would also like to thank Nobby Clarke, Paul Kennaugh and Wayne Barnsby for providing 'special' items for the auction and to Tony Brown for designing and supplying the 'flyers' to publicise the evening.
The £1720.00 raised in Robert's memory has been split between the Southern 100 Helicopter Fund and the Manx Grand Prix Supporter's Club, who provide funds for the Helicopter for the Manx Grand Prix, two causes that Robert supported throughout his life.