Michael Dunlop is set to make a sensational debut in the sidecar class at next year's Isle of Man TT races.

Dunlop has won two TT solo races but this will be his first foray into three-wheel motorsport competition.
The younger of the Dunlop racing brothers won a Supersport TT race in 2009 and followed that up with a victory in the Superstock class this year.
He has yet to confirm his plans for solo racing next year, but news that he will compete in the two sidecar races at the biggest road racing event of the year will come as a major surprise.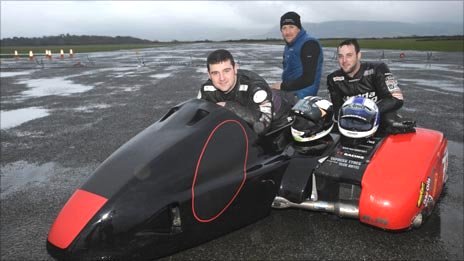 Sayle is a seven-times TT winner and is likely to passenger Dunlop on the Mountain Course.

Dunlop is aiming to become the first winner at the TT on both two and three wheels since Freddie Dixon in 1923.

The 22-year-old tested a Nick-Crowe built Honda outfit alongside former world sidecar champion Tim Reeves and finished with the fastest lap of the day.

"That was awesome, really, really enjoyable," said Dunlop after the test.

"Before the start I thought it was going to be hard work, hard to drive, but it wasn't at all.

"I would love to win a Superbike TT in the afternoon and then go out and win a sidecar race in the evening - that would be really cool," said this year's Ulster Grand Prix hat-trick star.

"Michael has been torturing me all year about getting a go in a sidecar and when he sorted this ride Nick asked me to sit with him," explained Sayle.

"He is smooth and I think he could race on the TT course."

Sayle finished by stating that he would be happy to passenger Dunlop on the roads next year.

"Michael took to it like a duck to water," added team boss Crowe, another former multiple TT winner.