| | | |
| --- | --- | --- |
| Practice Week: | | Aug 21 - Aug 27 |
| Race Week: | | Aug 28 - Sept 3 |

| | | |
| --- | --- | --- |
| Practice Week: | | May 28 - June 1 |
| Race Week: | | June 2 - June 8 |
Ryan Farquhar considers racing return
Author Malcolm
Wednesday, Oct 16, 2013 3:45 pm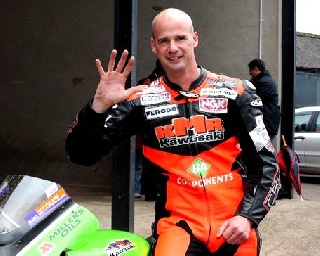 The KMR Kawasaki team boss told the News Letter he was considering competing in the Supertwin class at Bishopscourt in Co Down with a view to carrying out development work on the ER6 for 2014.
Farquhar, the most successful Irish national road racer ever, said:
"There are things I want to test for next year but it's very hard getting a rider to give the proper feedback I need to sort the bikes out, so it would be a good opportunity at the Sunflower to get some work done for next season.

"If I ride the bike myself then I know straight away from experience what I need to do to get it right and it's obviously even better from that point of view in a race situation.

"I'll see what happens but I've talked it over with Karen [Ryan's wife] and explained to her from my point of view what my thinking is,"
he added.
"
It would probably be a one-off and it's all about developing the bikes
."
Farquhar called it quits after his uncle, Trevor Ferguson, died following a crash at the Manx Grand Prix last year.
Pressed on whether he would ever consider returning to the roads, the Dungannon man said:
"
It's very unlikely, but I've options to ride bikes at the Classic TT for example with Roger Winfield, who would gladly give me a bike. Who knows though - never is a long time.
"