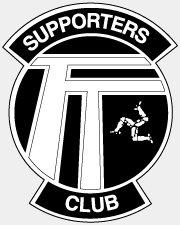 Succeeding fellow lady sidecar driver, Debbie Barron as recipient of the award, daughter of long-time TT competitors, Francois and Sylvie LeBlond, Estelle had two fine finishes – 29th in each race with a fastest lap in excess of 102mph. Suffice to say, Estelle and her passenger, Sebastien Lavorel, were delighted with their achievements.

The TT Supporters' Club presents the Susan Jenness annually to the female competitor who, in the eyes of its Executive Committee, made the most meritorious performance at that year's TT. The award is in memory of Susan who lost her life whilst marshalling at an off-road event in England some years ago.

There, of course were other ladies in contention for the award… the highest placed female passenger this year was former recipient of the Trophy, Fiona Baker-Milligan, who accompanied her dad, Tony Baker to 11th in the first sidecar race, at an average speed of 106.887mph, securing a bronze replica. Maria Costello had another excellent TT meeting with three finishes, the most outstanding of which was 16th out of the thirty-seven who completed the distance in the Lightweight TT. An average of 109.196mph for the three lap race meant there is another bronze replica in the Costello trophy cabinet.

TT 2014 is just around the corner, and the big question… who will be the first Leblond across the Glencrutchery Road finishing line, dad, Francois, or the fastest TT lady sidecar driver, Estelle?


Further information about the TT Supporters' Club visit www.ttsupportersclub.com
or

contact Magazine Editor / Press Officer via w.bean2@ntlworld.com


Graham Bean



Estelle and Sebastien Lavorel



courtesy Equipe Ajax




A young Estelle firmly in control and obviously enjoying herself,
but I'm not too sure about her passenger !