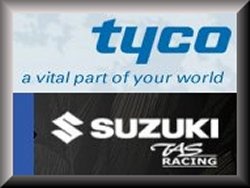 The British rider, who this week launched a new TV series on Channel 4 in the UK called "Speed with Guy Martin," is currently on holiday visiting friends and took-in the annual Boxing Day event at Cemetery Circuit in Wanganui; and secured a third position against New Zealand's best.
Martin, who set a new bicycle speed-record of 112mph in his first episode of the series, last visited the circuit in 2005 and is currently mountain-bike-training in the country.
He said:
"This is mega! I'm not bothered were I ride motorbikes - I just want to ride them - but to come to New Zealand and do the Cemetery Circuit on Boxing Day… I just love it."
Suzuki riders celebrated success at the traditional warm-up for the New Zealand Superbike Championship that starts this weekend, with five of the top-six riders GSX-R-mounted.
But defending champion Dennis Charlett – who held the series lead by three points before this third-and-final race – had a day to forget and lost his crown to Kawasaki's Nick Cole, blaming poor preparation on his part, but remains optimistic for the opening New Zealand Superbike round in Christchurch on January 5th.
Said Charlett:
"Poor preparation equals poor performance. I had to go home to Christchurch between rounds two and three for work and that put me behind in terms of getting ready for today. It was frustrating that I couldn't put in the time and effort required to be ready to race today. But the series was a good shake-down for the nationals as I'll have a lot more support for that. I've had my bad luck now and I'll be ready to go for the nationals. I may have lost this battle but the war is still there to be won."

Surprise of the day and the series proved to be Suzuki's Hayden Fitzgerald, who moved up from seventh overall after round two to finish fifth overall in the F1 class and he also won two other bike classes; the only rider to take a title in more than one division: The 28-year-old rode a Suzuki SV650 to win the Formula Three (Superlites) class and also rode a 500cc 1962 Matchless G50 McIntyre to win the Classic Solos class.
Said Fitzgerald:
"Finishing runner-up in the Robert Holden race is the best I've ever done here and I was catching Nick Cole too. I managed to get past Tony Rees to move into second spot and then I just put the hammer down and went hard. This series has been a great build-up for the nationals and I'm feeling confident I'll do well."




Information courtesy of BikesportNZ.com & MNZ.co.nz

Photo: Andy McGechan @ BikesportNZ.com