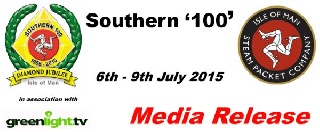 The organisers of the popular road racing event, Southern 100 Racing have released this year's coverage recorded by Greenlight Television and it is available via the club's official website; http://www.southern100.com ,via Duke Marketing on http://www.dukevideo.com and from selected retail outlets.



The 4.25 mile Billown Course was the scene for a series of epic battles in July 2014 as the Southern 100 rolled into town.

The usually peaceful roads around Castletown in the Isle of Man reverberated to sound of high-speed motorcycle racing as the best road racers in the world battle for championship glory.

Guy Martin, Michael Dunlop and Conor Cummins were all on form but there seemed little they could do to hold back Bradford's Dean Harrison as he wowed the crowds with an exquisite display of speed and skill.

Supersport, Superbike, Supertwin - whatever he turned his hand to it seemed Dean had the edge.

That's not to say he had it all his own way; the 650 race provided one of the closest finishes in the history of the event as Dean just squeezed out James Cowton by an incredibly slender .001 of a second!

The sidecars are always a prominent feature of the Southern 100 meeting and 2014's offering certainly didn't disappoint.

The entry boasted the most recognisable names in the sport including the father/son pairing of Ian and Carl Bell and TT sidecar supremo Dave Molyneux who had Benjamin Binns in the chair for the event.

Fresh from breaking his TT duck after 21 years of trying Dean's dad Conrad was out to improve his summer still further with his eye on the Championship trophy and he'd employed the local talent of Jason Crowe for the occasion.

With "Team Harrison" on a roll could anyone stop them clearing up the Championship races?

You'll have to watch this superb 3 hour review to find out!

The 192 minute programme contains coverage of all races, plus exclusive to the DVD - On board laps with Guy Martin, Dean Harrison and Conrad Harrison.

You may have been fortunate enough to have been one of the thousands who surrounded the 4.25-mile Billown Course - this DVD will revive your lasting memories of an excellent Southern 100 in 2014 and assist with the all too frequent withdrawal symptoms.

If you missed attending - the programme will ignite your enthusiasm to ensure you make every effort to attend the 2015 Southern 100, which incidentally celebrates its 60th Anniversary next year!

The 2014 DVD will also help in whiling away the long winter evenings until the new road racing season fires-up in 2015.

Or you may want to add it to your collection of Southern 100 DVD's which have been produced annually for a good number of years…


The Southern 100 2014 Road Races DVD costs - Duke £19.99 Postage Free. S100 £16.99 plus £2.50 postage - Order today !