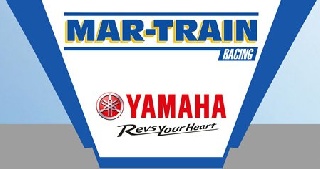 Mar-Train racing are delighted to announce they have signed Manxman Dan Kneen for the 2016 road racing season.
Following weeks of speculation the Yamaha UK team can confirm they will run the twenty eight year old on their YZF-R6 and YZF-R1M machines at the three International road races plus other selected events which will be confirmed at a later date.
Kneen burst onto the road racing scene in 2008 when he became the first newcomer to win three races in a week at the Manx Grand Prix, since then the Douglas man has notched up over a dozen top ten finishes at the TT including a fifth place in the 2010 supersport race. 2014 was undoubtedly Kneen's best season however winning the Ulster and Irish Superbike championships as well as scoring his maiden International victory at the Ulster Grand Prix.
2016 is the second of a two year programme for Mar-Train to develop the all new YZF-R1M for pure road racing with the Lisburn outfit having already started to reap the rewards of their hard work towards the end of 2015. Team owner Tim Martin believes Kneen will benefit from their year of development with a stable of race winning machinery at his disposal to add to his International success.
Tim Martin, Team Principal
"
We are a million miles from where we started 2015 with the YZF-R1M, the improvements were evident at the Gold Cup and we have been working with YMUK in the off season to ensure we have an even stronger package for 2016. I am excited about our prospects for this year, we needed to ensure we had a hungry young rider capable of delivering the potential of our bikes and I am really pleased we have managed to secure that in Dan. He has won at the UGP, he lapped the TT at 130mph last year and was running top sixes before mechanical issues at the North West 200 so he is perfectly capable of challenging for International honours with us. He fits in well with our team structure and I am looking forward to getting out testing and working with him.
"
Karl Radley, Motorsport Co-ordinator for Yamaha UK
"Yamaha are really pleased to welcome Dan on board with Mar-Train Racing. He's clearly a talented rider and with the new R1 underneath him the Manxman will be a force to be reckoned with on his home turf as well as the NW200 and Ulster Grand Prix. With such positive news we can't wait to get the 2016 season underway
."
Dan Kneen
"I just wish it was the beginning of the season now, I've spoken to Tim before but the time is right now and hopefully it will be a perfect match for us. The bikes are definitely good enough for the job, I had my best ever TT result on an R6 Yamaha and the R1 is only going to get better and better. I get on really well with the guys in the team as well, I met up with Andy Jamison last week and we seem to be on the same wavelength which is really positive. It's also great to be working with Yamaha UK as I know how closely they work with the team, it's just a waiting game now to get to Spain testing and then on to what should be a great year
."