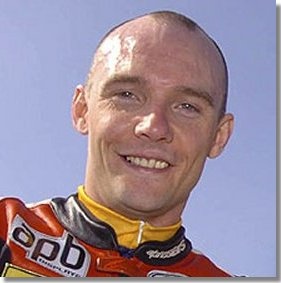 "I've decided to retire,."
he said last night after receiving the news that the injured shoulders had not responded to treatment.
"My decision has been a hard one and one I have agonised over for the last few months."

The 39 year old Falkirk rider has scored five podium finishes at the TT, including a second place in last year's opening Supersport Race and second overall in the 2011 TT Championship. But it was two crashes on the Island last June that spelt the beginning of this premature end for the likeable Scot.
'I had three crashes last year and they left me in a lot of pain.
' Amor reflects. A crash during a practice session at Quarterbridge was followed by another fall just down the road at Union Mills in the second Supersport TT. Keith suffered a serious injury to his right shoulder in the falls, which was aggravated by another crash at Leathemstown during the Ulster Grand Prix in August.

"I had major surgery to both shoulders in November with the right having to be totally reconstructed and the ligaments tightened in the left as well.
' Keith explained.
'I had a MRI scan today to check if the ops have been successful but the doc said it hadn't healed and I would need further surgery. So that's me done with racing."

This time last year the Falkirk man was on cloud nine when it was announced that he was to partner John McGuinness in the 'works' Honda TT Legends squad to campaign on the roads and in the FIM World Endurance Championship.
The Scot continued to race with his damaged shoulders after June in both the endurance series and at the Ulster Grand Prix, but the experience of racing whilst not properly fit has helped him make up his mind to quit.
"I was injured all of last year and I am not going to ride in that condition again. I am in racing to win and I want to be competitive, not just be out there to make up the numbers,"
he said.
It isn't all doom and gloom in the Scot's life though. He has set up home in the sunshine of Cyprus this winter and got engaged to his girlfriend Charley at Christmas and they are now expecting their first child together.
"I will be 40 this year and I have done a lot in racing in a short time."he reflected after making the announcement to quit. "I started my career in 2001 at Knock hill with an orange bib at a Kirkcaldy club meeting as a novice and ended it 10 years later as a member of Honda Europe's TT Legends team. I didn't race any roads at all until 2005 and I only went full-time in 2007. A lot of hard work went into getting here for it all to go wrong like this but everything changed with a simple twist of fate."

Paul Philips, TT and Motorsport Manager, Isle of Man Government commented:
"Despite his late start to TT Racing Keith has had a great career. People often forget that he only began racing on the Mountain Course in 2007 and was a whisker away from Steve Plater as fastest newcomer lap that year. He finished on the podium in his second year and went on to claim at least one podium a year every year since. He quickly established himself as one of the leading TT riders and he was a great teammate to John McGuinness last year. I have no doubt that with had he continued to race at the TT fully fit, he would have won races and he is a popular figure who will always be welcome on the Isle of Man."