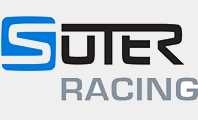 This prestigious event requires everything from man and machine. The man who rose to the challenge 2 years ago, will again gather all his skill and knowledge of the mountain course to ride our MMX500 V4 2-Stroke in both the Superbike and the Senior TT race.

Ian has an unquestionable pedigree at this circuit. The idea to race here is simple: Show how much the MMX500 has matured, in both reliability and efficiency.



"It goes without saying, I am excited to be racing the Suter MMX500 again at the Isle of Man TT races. I feel that after all the hard work put in by the entire Suter team and myself, it's very much unfinished business and I can't wait to go testing. It's two years since our last episode together, and the engineers say that they have managed to squeeze even more power out of the engine and iron out all the niggly problems we encountered in 2016. I'm ready to go down Bray Hill and give the spectators that Two Stroke experience again.'' Ian Lougher (10 Time TT Winner)

"Development from our initial run at the mountain two years ago, has been ongoing. We are confident in what Ian will be able to achieve with the bike in this trim!" Eskil Suter

In another first! We are selling this TT 2018 race bike as is! The sales package includes:


1) The MMX500 Ian Lougher raced at the IoM TT 2018 (Including all road rash and bugs).
2) Handed over in person by the team and rider on sight (perhaps even in Pit lane).
3) A complete set of Suter 2018 TT Team Wear.
4) VIP access to all the team and rider paddock, as well as all activities the team is part of.
5) An allocated spot to one of our very own Suter Race Days, with Eskil leading the way as your personal coach himself!

To witness first-hand the thrill of the IoM and be an integral part of the story in 2018 !

Then take that piece of history home with you! There is no way of being closer…

Unless you take part yourself !