Richard Britton Memorial event headlines new Enniskillen Road Races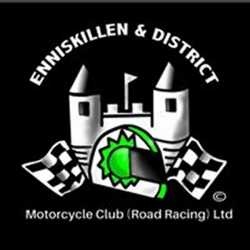 The original 'Enniskillen 100' meeting was last held 66 years ago but motorcycle racing on closed public roads will return to County Fermanagh from June 29-30.

Promoted by the Enniskillen and District Motorcycle Club Ltd, Northern Ireland's newest road race will be held on a three-mile course set in the shadow of Cuilcagh Mountain, featuring fast straights, sweeping corners and blind jumps only a few miles from top attractions including the Marble Arch Geopark and Lough Erne.

Practice will be held from 12 noon to 9pm on Friday, June 29, while an 11-race programme is scheduled for race day on Saturday, when the race named in memory of Enniskillen's Richard Britton takes top billing.

A star of his generation, Britton was sadly killed in a freak crash at the inaugural Ballybunion Road Races in County Kerry in 2005.


Pictured at the launch of the new Enniskillen Road Races yesterday are (from left)
club members Fiona Ferris, Loris Britton and Rodney Shaw with top female racer
Melissa Kennedy and her father Trevor, and Gary Dunlop.
The event will take place from June 29-30

A spokesperson for the club said:

"Richard is the main reason the club were able to move forward with our plans with the funds raised thanks to the tribute film, which was commissioned by the club and produced and directed by Colin James to mark the 10th anniversary of his untimely passing.

"Riders from all over Ireland north and south will compete at the event with riders from as far as Germany and England. We believe that the rider at the back is every bit as important as the rider at the front we are hopeful to put on a show as never seen in this area before.

"We are proud to bring motorcycle racing back to the area and as it was during the last race in 1952 it will again have the old school approach and the local community are looking forward to the event."

The club will continue to run its short circuit meetings at St Angelo in addition to the new road race, which is the culmination of three years' hard work.

Fermanagh and Omagh District Council is on board as event sponsors.

Gary Dunlop attended the launch with one of his legendary father Joey's Honda RS250 machines.

The Joey's Bar Motorcycle Club will support the Moto3 race, with Derek McGee among the early confirmed entries.



Kyle White