Greenlight Television Continues Coverage of Southern 100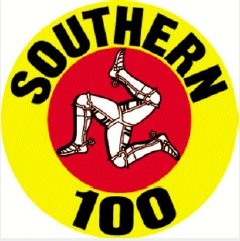 The Tromode-based company will produce this year's event in full HD for the first time, including the on-bike and kerbside cameras which have always taken viewers into the thick of the action for which the Southern is renowned.
It'll be brilliant for TV viewers, say Greenlight, and it'll be better still for DVD customers, who will get full races on-bike with individual riders, providing a quality and excitement they've never seen before.
Greenlight says it is delighted to continue its relationship with the Southern 100 into a third year and continues to be amazed by the closeness of the racing.
"They call this event the friendly races, and in the paddock it certainly is
",
says Richard Nichols,
"but they forget all about it as soon as the flag drops."

George Peach, Race Secretary continued
:
"Greenlight Television have produced an excellent DVD covering every race for the last two years, which have been very well received and with the added HD quality for 2012 the coverage will be further enhanced.

"In addition the world-wide TV coverage the Southern 100 receives helps promote and publicise the races and the Isle of Man, being seen in excess of 500 million homes, thanks to Greenlight's global contacts."