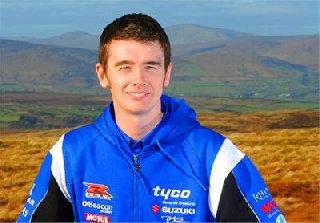 It's been a long winter and one I was glad to see the back of as I have been real eager to get going with testing. I've been training real hard over the winter months getting myself in the best possible shape for the 2012 season. It's going to be another tough one again, but I've put the graft in so I am hoping for good results. I must say I am extremely grateful to the team and all my personal sponsors for giving me the opportunity to go and chase my goals this season.
The two-day test at Kirkistown went really well. I rode my GSX-R1000 Suzuki Superstock bike that I'll be riding this season in 'stock trim, which was perfect for me to just ease myself back into it all again. In between the rain showers I completed over 100 laps on the bike which I' happy with. In all honesty it's the comfiest bike I have ever sat on for the first time. I found there is a lot of room on the bike, even for someone like myself. It's not easy being small sometimes! I wasn't there to chase times so I used the track time to get comfy with everything and make the bike feel like my own, so it was great working with Paul, Mark and Denver and they gave me everything I needed to get the laps in. The only thing we adjusted was the rear shock but nothing major. Considering it was a basic bike I was pleasantly surprised at how good the bike is with so little modifications and I can't wait to get back out on it again. I knew it anyway but these bikes are going to be awesome to ride on the roads!
Aside from concentrating on myself over the two days, it's been very interesting listening to what Alastair and Josh have been saying about their Superbikes, which they will ride in BSB this year. The lads were on the pace straight away so it will be interesting to see how they get on this season.
I am fortunate enough to have secured a helmet and leathers deal form AGV and Dainese - arguably the biggest brands in the sport - so I'm really looking forward to working with them both over the course of the year. My helmet design this year is going to be slightly different than in previous years. Pete Jones, who is local to me here on the Isle of Man, has done a great job in creating a new design for me. It will look really good, so coupling that up with the awesome design I have seen for my Dainese leathers in the Tyco Suzuki colours, the whole thing is going to look fantastic.
As well as concentrating on international road races, I will do the first three rounds of the National Superstock 1000 championship, which will definitely get me some good track time but most importantly the race mileage. There is nothing that can prepare you for a road race like the TT, but you can definitely benefit from the racing miles as it sharpens you up no end. The class is ultra competitive and sure to create drama for some lads as there is a lot of paint swapping that goes on.