Injuries force Sidecar TT great Dan Sayle to call time on illustrious career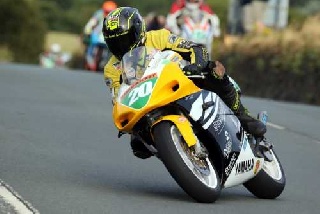 Isle of Man Sidecar TT star Dan Sayle has confirmed his retirement from the sport.
Sayle announced the news on Monday and ha called time on his career in all forms of motorcycle racing.
The 38-year old, an eight-time TT winner as a passenger for Dave Molyneux, Klaus Klaffenbock and Tim Reeves, suffered life-changing injuries after an accident at Ballaspur during the 2018 Lightweight Classic TT race and although doctors feared he may never walk again, he remarkably fought back to race at last year's event.
However, as a result of those injuries, Sayle is unable to compete at the same level and his body would not withstand the impact of another crash, so the Sulby man has decided the time is right to call it a day.
Sayle said:
"I've had a real good run, better than most, but sadly due to a few factors like my ongoing injuries from the crash at the 2018 Classic TT, I cannot withstand another tumble.

"I always said that when I felt concerned or wasn't enjoying it the same I would stop and whilst this has been a long decision over the winter and one I've taken with lots of advice from the doctors, my decision is final. If I were to carry on, it would be selfish and I don't want the feeling of leaving a hole in the lives of my loved ones."
Sayle described his comeback against the odds at last year's Classic TT as the 'finest moment' of his racing career.
"After the injuries I received in 2018, my finest moment in racing is probably last year's Classic TT after lying in hospital not even knowing if I would even be able to walk again,"

he said.



"I rode as hard as I could and sat in my van for a good while afterwards in pain. It was my hardest race ever and I pretty much knew then it was over so I'm happy to bow out on a high. I've had so many people help me over the years and it would take me another year to count all of them but I'd like to thank everybody that has helped me in any form over my time in racing.

"I have other avenues I want to go down now and enjoy my life doing what I like doing and my other interests. I've had a good run and it's time to slow down."


Dan with Klaffi, celebrating their 2011 TT win.

His record of eight sidecar TT wins as a passenger is the joint second highest of all time alongside Rick Long, second only to Tom Birchall's ten victories, whilst his 14 podiums is the most in the history of the event, a record he shares with German legend Wolfgang Kalauch.

Sayle was also a three-time winner of the Ultra-Lightweight race at the Manx Grand Prix and also demonstrated his versatility by taking third place in the 2011 Senior Manx Grand Prix on a 600cc Yamaha.

Upon his return from injury at the Classic TT in 2019, Sayle finished sixth and seventh in the Junior and Lightweight races last September.


Kyle White