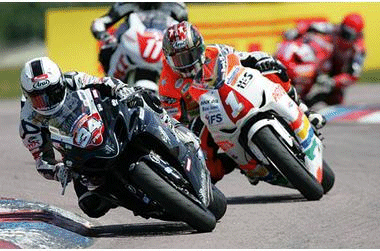 Seeley may have relinquished his 100 per cent pole position record in qualifying, but the 29-year-old played the perfect game of cat and mouse throughout the 15 lap race, out-smarting and out-riding his rivals to take the chequered flag after setting the fastest lap of the race.

In the British Superbike class, Ian Lowry looked to be heading for a top-five finish in race one, but at half distance, his rear tyre started to shred itself on the right-hand side, leaving the 22-year-old with the unenviable task of nursing his GSX-R1000 Superbike home in 19th place. Ironically, Lowry recorded the second-fastest lap of the race before his tyre problems.

In race two, he got himself involved in another battle for the top-10 with experienced performers Karl Harris and Glen Richards. The Moira racer eventually passed Harris on the last lap to take eighth place and now sits 10th in the series on 48 points.

Atsu Watanabe improved on his Donington performance, scoring points in the opening race, but the Japanese rider crashed out of race two at the final chicane when he ground out an engine casing on one of Thruxton's high kerbs.

Alastair Seeley:

"I had the benefit of being able look at Brogan today in the race and I was able to see where he was good and not so good. I don't think the 2009 GSX-R1000 was out-performed anywhere on the circuit, and, in the last few laps I decided to hit the front as one of the boys showed me a wheel and I didn't want to get caught out. Once at the front I was able to pull the pin. It's another win for Relentless Suzuki and a perfect race record so far this season."

Ian Lowry:

"I'm disappointed as I was on-the-pipe in that first race before the rear tyre ran into problems. In the second race I tried to preserve the tyre and was possibly a little conservative. I should really have been in that top six, battling for a podium, but I now think it's as much down to experience as it is pace. The GSX-R1000 Superbike was a match for anything at the fast Thruxton Circuit and I now just have to put the head down and get myself ready for Snetterton in a couple of weeks time."

Philip Neill - Team Principal:

"It was a strange sort of weekend whereby Ian gave us a lot of belief and showed that we have the pace with the Relentless Suzuki for a podium. Ian has established himself now in the top-eight in BSB but the next stop is going to be difficult, although he is acquitting himself very well. He has been very consistent, not making mistakes, and in race one today it was unfortunate that he had a tyre problem. With the tyres being mass produced, there's always a chance you can get a bad one and it certainly cost Ian fourth or fifth place today. In race two he was possibly a little conservative but eighth is a positive result.

"Atsushi improved his lap times considerably today and was fighting for a top 10 in race one. Unfortunately he slipped off in race two at the final chicane, thankfully unhurt.

"Alastair Seeley had a superb day and it's been a long time since I've witnessed such a mature, calculated and well-read race from a rider: He showed battling qualities and after we discussed a race plan, he executed it perfectly using the qualities of the 2009 GSX-R1000 to take the win."

National Superstock 1000cc: 1 Alastair Seeley [Relentless Suzuki] 19:47.020; 2 Steve Brogan [Honda] +0.085; 3 Adam Jenkinson [Honda] +0.393; 4 James Hillier [Kawasaki] +1.747; 5 Howie Mainwaring [Kawasaki] +2.239; 6 Sam Warren [Yamaha] +6.091. 18 BJ Toal [Relentless Suzuki].

Isle of Man TT 2009:

You can follow Relentless Suzuki by TAS Racing's Cameron Donald and Bruce Anstey at this year's TT Races on Radio TT [AM 1368]. Racing commences this Saturday June 6 with the Superbike TT at 12 noon. Tune in from tomorrow night [Monday] for LIVE coverage of the qualifying sessions from 6.20pm.