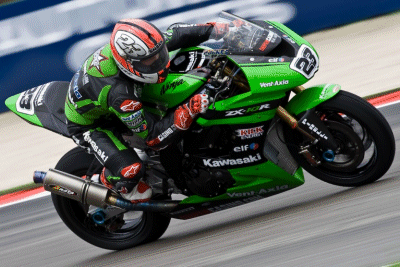 Australian ace Parkes and British-born American Hacking showed some promise during Friday's practice sessions at the Italian Riviera circuit which was playing host to round eight of the fourteen round series but with the weather forecast not favourable they knew it was important to get as high up the grid as possible.


Unfortunately, despite qualifying for Superpole, neither rider could improve and they were to start today's two races with Parkes in 19th and Hacking in 20th aboard the www.supercasino.com, Vent-Axia and Kick Energy-backed Kawasaki Ninja ZX-10Rs.


Race one started wet and both riders were circulating in the points when it became necessary to pit in order to change to dry tyres but Hacking missed his best opportunity to do that and score potentially a top ten placing, and dropped to 16th at the flag, one place ahead of Parkes.


Parkes blew the start in race two but recovered to claim 17th place at the end of the 24 lap race but Hacking had a contretemps with another rider, and was forced off the track as a result, before eventually claiming 22nd place at the flag to leave the team points-less for the first meeting in five.


Broc Parkes: "It's been a mixed bag weekend for me. I was happy with Friday's fifth place but we struggled in Superpole to get a flying lap in and I missed sector two for the first time this year. The rain in race one obviously made conditions really difficult and we chose the wrong tyre so I really struggled with grip as it dried up and by the time I changed tyres it was too late to make up any major ground. In race two I got a bad start and I still didn't feel like we had the right direction on the bike so really struggled in the corners. We tried so many things over the weekend but with little improvement. Battling in 16th and 17th place is really disappointing for me and the team so I can only hope that we have a better meeting at Donington."


Jamie Hacking: "This weekend definitely didn't go the way I wanted it to go. Qualifying didn't go our way and we were lucky to make it to Superpole from Friday's time but I still couldn't get a decent lap time in the weather conditions to improve into a better grid spot. In the first race I wasn't clear on the rules regarding the tyres as in the States, the tyres you start on are the ones you finish on so I didn't see the board telling me to pit until it was too late so I basically shot that race away which was really disappointing as I felt we could finish at least in the top ten. In race two I got a decent start but I tried to go a bit steady into the corners when it was crowded so I didn't make the same mistake as at Miller, but I lost places so I was pushing hard and unfortunately ran into the back of someone later on and went off track so was trailing in last until I could move only a few places forward. I'm really, really disappointed for the team and for myself and I just hope that I can make up some ground at Donington."


Paul Bird, Team Owner: "It's been a really disappointing weekend for the team and I feel that we've gone backwards, not forwards after some really good progress in previous races. We threw away some decent results here in Misano as we showed we could do some decent times with Broc in fifth on Friday and I know Jamie has real potential so I feel we should have done better. We need to refocus and get our positive direction back ready for our home race at Donington."


Paul Risbridger, Team Manager: "It's been a disastrous weekend for the team after a positive start on Friday. Broc was running in third and fifth place and whilst his performance in Saturday's Superpole was matching Friday's, he wasn't able to get a clear lap on a qualifier so he missed out on Superpole two. It's always going to be difficult starting from the grid positions we had and the conditions didn't help us either. Jamie had a good wet set-up but was not able to take advantage as unfortunately he failed to pit at the correct time and missed a window to change onto dry tyres. In race two both riders lost positions at the start and the race pace was disappointing and to finish outside the points after the progress we've made is not good enough. We have to quickly refocus to raise the bar ready for Donington Park."


The next round of the Hannspree World Superbike Championship takes place this forthcoming weekend at Donington Park in Great Britain. (www.worldsbk.com)


RESULTS RACE 1


16. J. Hacking (Kawasaki WSB)
17. B. Parkes (Kawasaki WSB)


1. B. Spies (Yamaha WSB)
2. S. Byrne (Sterilgarda Ducati)
3. M. Fabrizio (Ducati Xerox Team)
4. J. Smrz (Guandalini Racing)
5. N. Haga (Ducati Xerox Team)
6. Y. Kagayama (Suzuki Alstare BRUX)
7. J. Rea (Ten Kate Honda)
8. T. Sykes (Yamaha WSB)
9. S. Nakano (Aprilia Racing)
10. M. Lagrive (Honda Althea Racing)


RESULTS RACE 2


17. B. Parkes (Kawasaki WSB)
22. J. Hacking (Kawasaki WSB)


1. J. Rea (Ten Kate Honda)
2. M. Fabrizio (Ducati Xerox Team)
3. N. Haga (Ducati Xerox Team)
4. J. Smrz (Guandalini Racing)
5. C. Checa (Ten Kate Honda)
6. S. Byrne (Sterilgarda Ducati)
7. T. Sykes (Yamaha WSB)
8. L. Haslam (Stiggy Racing Honda)
9. B. Spies (Yamaha WSB)
10. M. Biaggi (Aprilia Racing)


Picture: Broc Parkes in action at Misano, courtesy of Pablo Gutierrez.