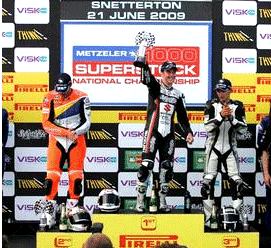 At Snetterton in Norfolk, the diminutive Ulsterman was again involved in the best race of the meeting with his main adversary in the series, Steve Brogan. Seeley both led and followed during the race, in an attempt to outthink his rival; the Carrickfergus rider eventually forcing a mistake from Brogan on the penultimate lap to run out a comfortable winner.

BJ Toal on the other Relentless by TAS Suzuki was fighting for a top-10 finish when a mechanical problem forced him to retire after 16 laps.

Ian Lowry continued his spirited ascendancy in the British Superbike class with fifth and seventh-placed finishes: The 22-year-old has now gained that little bit more experience going into the next round at Knockhill, which is one of his favourite circuits.

Atsushi Watanabe finished his day with 18th and 16th place finishes but improved on his lap times from 2008 at Snetterton.

Philip Neill - Team Principal:

"Alastair Seeley came to us at the start of the season as a rough diamond and we've refined him - knocked the rough edges off - but I have to hand it to him, he has a great racing brain. He might not have been the fastest rider today, but he was certainly the smartest. It's rare to find a rider who continually delivers the perfect race strategy.

"Ian Lowry had another solid weekend and he's now in a comfort zone in or around the top six. To move to the next step we need to fine-tune a few things and Ian maybe needs to 'hang it out' a little more if he's to push closer to a podium finish. Once again, Atsushi Watanabe has bettered his lap times from 2008, but we will expect further improvements as the season progresses.

"BJ Toal was a little unlucky to have retired after knocking on the door of the top 10. We know the lad has the ability; he just needs to find a little bit more confidence in the GSX-R1000 Superstock bike."

Alastair Seeley:

"I'm well chuffed with that result. The 2009 GSX-R1000 was not only a fast bike today, we ran good tactics and forced Steve into a late mistake; when he did, I made that last lap count. I'd like to thank Ian Glen from Beacon this weekend, as he has been instrumental in my involvement with the Relentless Suzuki team from the very start. I'm now thinking of Knockhill and having tested there I'm pretty confident of keeping this run going."

Ian Lowry:

"The first race was okay for me but I did think we could have been closer to the front in race two. I did have a couple of small issues that I discussed with the team afterwards, but again, it's just down to me learning as we go along. Every circuit is new to me on a Superbike and the team are continuing to do a superb job for me. John Reynolds has also been a great help this weekend."

BJ Toal:

"The race was going pretty good for me until late on when I started to struggle to find gears when I just lost power and had to retire. I have been getting a better feel for the Suzuki GSX-R1000, so I just need the results to start coming now and with that my confidence will build."


Metzeler National 1000cc Superstock Points:

1 Alastair Seeley [Relentless Suzuki] 125 points; 2 Steve Brogan [Honda] 87; 3 Richard Cooper [Yamaha] 61; 4 Scott Smart [Ducati] 51; 5 Adam Jenkinson [Honda] 50; 6 Luke Quigley [Honda] 46.