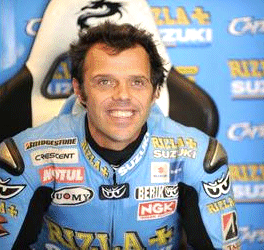 Capirossi will sign a one-year extension to his current Suzuki contract during the Indianapolis MotoGP this weekend. The experienced Italian joined Suzuki at the start of the 2008 season and has become a highly-respected and influential figure within the Hamamatsu factory's racing division.

The agreement with Capirossi finalises Suzuki's 2010 MotoGP rider line-up, following the recent announcement that 24-year-old Spanish star Alvaro Bautista will join Suzuki for the next two years.

Loris Capirossi:

"I am very happy to continue working with Suzuki and everyone involved with the Racing Group and the team. I love working with my crew and feel really at home here. When I joined Suzuki I really wanted to win races and this is still the target. I love the competition and the challenge and my ambition to succeed is as strong as ever. We are 100% focused on developing the GSV-R into a race-winning machine and the improvements that have come through recently show that Suzuki is working in the right direction. I am pleased to have signed again at this time of the season as it gives me a great motivation for the rest of the year and an incentive to get the bike ready for 2010."

Paul Denning - Team Manager:

"Loris brings so much character, bravery and experience to Suzuki, and his technical input is invaluable. He still has an enormous drive and determination to succeed - we now have to react to his requests and give him the tools to be as competitive as possible. We hope that Loris, with the youthful exuberance of Alvaro alongside him next season, will be a good partnership. Loris is a great team-mate but certainly won't want to be beaten by the younger guy so I am sure he will be fighting hard!

"This announcement confirms that Suzuki and Chris Vermeulen will not be working together in 2010. On behalf of Suzuki Motor Corporation and the whole team, including title sponsor Rizla, I want to wish Chris the best of luck in his future career. He has been a great asset to us and a true professional at all times - even when things have not quite gone to plan. We have had some amazing high-points with Chris - taking Suzuki's first four-stroke Grand Prix win at Le Mans in 2007 being the obvious highlight. We hope that he continues to have success throughout his career and trust that Chris, Toni and his family will always remain friends of the team."