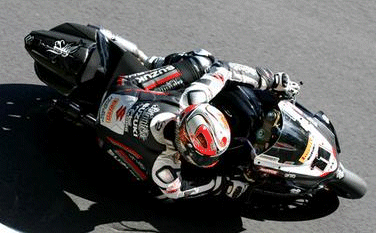 Lowry showed top form at the start of the Bank Holiday weekend during free practice and qualifying, and even though a slight clutch problem saw him drop through the field in the opening turns in race one, the 22 year old wasn't intimidated, making a number of hard but clean moves, taking him back into a potential podium position.

A race-long battle with Stuart Easton and James Ellison around the tight, narrow and twisty Cadwell Park circuit ended with a fourth-placed finish, but the Moira lad had the consolation of taking the second fastest lap time in the race on his 2009 GSX-R1000 Superbike, behind series leader Leon Camier.

In race two, Lowry again suffered with a niggling clutch problem off the line, getting swallowed up by the field. He then made a concerted effort to push through the pack but unfortunately slid off without injury on lap 16 of 18.

Ian Lowry:

"We are now so, so close to running at the front on a regular basis and even though we had an issue with our starts at Cadwell, I would have to say it probably cost me a podium. No ones fault; just one of those little problems that we can iron out, but hats off to the team as they gave me a great bike with a very strong engine low down for those tight turns at Cadwell. I didn't want to make a Kamikaze move in race one but without sounding cocky - there were places that Ellison and Easton were holding me up.

"In race two I got stuck behind Chris Walker and a load of other guys, which was so frustrating as the race pace was so much slower than race one. I could have been right up there.

"The last three circuits of the year are some of my strongest, so if we can keep moving forward, I know I can do the business and get that podium we all deserve."

Philip Neill - Team Manager:

"Ian deserved a whole lot more for his efforts than a single fourth place. He was never outside the top five all weekend and I would also say we had one of the best race bikes on track at Cadwell.

"Ian was possibly a bit cautious in race one as he had the pace to run in front of Easton and Ellison, but to come through the pack after a sluggish start was impressive. His clutch didn't seem to react the way it should have and we'll check the Telemetry to see what went wrong.

"In race two he had no chance from 15th place after the same clutch problem at the start, and trying to push through probably caused him to crash, but I can't fault his effort. He was faster than the guys in front, but unfortunately he had some experienced riders in that bunch who are hard enough to pass anywhere, never mind at Cadwell, which is so narrow.

"He really is coming of age and we have to keep reminding ourselves that he is still a series rookie. His championship position is not what it's all about for us, but to be up there fighting for fourth place with Harris and Andrews is where he deserves to be."