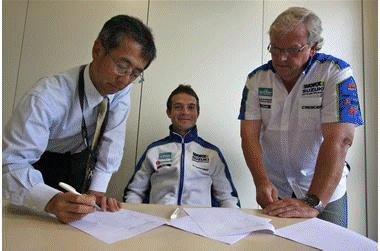 Said Mr Osawa: "For Suzuki, this is a very exciting development. Sylvain has shown through his races earlier this year - including his win at Brands Hatch - just how competitive the 2009 GSX-R1000 is. He is an exceptional rider and the excitement he generates within the team, and for the fans, to me feels like an extension of the excitement we feel the GSX-R itself generates. With 2010 being the 25th anniversary of the GSX-R, we look forward to celebrating the year together with Sylvain in the way he certainly knows how!"

Sylvain Guintoli said: "This is the first time in my career I've signed a contract this early in the year - I think that shows just how comfortable both sides are with each other. Right now we are working on regaining the competitiveness we showed at the beginning of this season, but as well we know, now that the experience that I am gaining at the tracks this year will be something we can carry into next season. With the experience we will have of the tracks, of the GSX-R and of working together as a team, we can look forward to next year with a lot of optimism."

Jack Valentine added: "We're very pleased to have Sylvain back on board for 2010 and to have him signed up so early. This allows us to build towards next season as from today and it's almost a head start. But as well, this allows us to now focus on our second objective for the new season. It is our desire to have a young rider partner Sylvain in the Worx Crescent Suzuki team in the 2010 season. There's no small challenge in making that happen as we'll need to secure additional backing, but a two-rider team is our intention and will be what we'll now be focusing on."