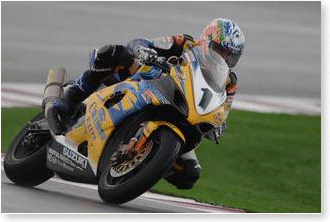 Not wanting to take chances in the morning un-timed session, they waited for an improvement in the weather, but the afternoon timed session was also blighted by rain so they had no choice but to venture out onto the slippery 5.380 kilometre Losail circuit.

Towards the end of the session, a dry line started to appear, but it was too little too late but Corser still ended the day third quickest behind Troy Bayliss (Ducati) and Regis Laconi (Kawasaki). Kagayama suffered electronic problems and ended 15th fastest with Foret 28th.

Troy Corser - 3rd, 2:19.614:

"I really thought that it would be dry in the afternoon session, so I decided not to go out in the morning and maybe do something silly. But then it rained during the lunch break and the track was wet again for our timed session. I've ridden around here in the wet before, so I have an idea of how the track feels.

"I took things pretty steadily - I wanted a top-four finish and that's what I got. Towards the end, a dry line sort of appeared, but there were still a few places with standing water so there was no point taking any risks. I haven't been on a bike for a while so I didn't push at all hard. "

Yukio Kagayama - 15th, 2:21.234:

"Like Troy, I did not go out in the morning - no point. In the afternoon timed practice, I had some electronic problems and so I couldn't get a chance to push so hard. Every lap I did, the conditions felt different to the time before, so I was very careful. I hope tomorrow will be dry and I can get in a lot of laps."

Fabien Foret - 28th, 2:33.307:

"Today was not a good day to start my Superbike career because I wasn't able to learn a lot. About the only thing I could learn is which way round the track went! I missed the morning session because I thought the afternoon would be dry, but it wasn't! This track is very slippery in the wet and I didn't want to start with a crash, so I was pretty cautious. I hope tomorrow will be dry and I can begin to push harder and understand my bike more."

WSB Thursday qualifying: 1 Bayliss (Aus-Ducati) 2:17.326, 2 Laconi (F-Kawasaki) 2:19.064, 3 Troy Corser (Aus-Alstare Suzuki Corona Extra) 2:19.614, 4 Walker (GB-Kawasaki) 2:19.684, 5 Gimbert (F-Yamaha) 2:19.687, 6 Barros (Bra-Honda) 2:19.834, 15 Yukio Kagayama (J-Alstare Suzuki Corona Extra) 2:21.234. 28 Fabien Foret (F-Alstare Suzuki Corona Extra) 2:33.307.