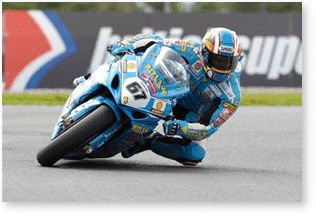 Shakey ended up sixth fastest on the timesheets but happy with progress at the 2.176-mile twisty and bumpy track. His Rizla Suzuki team mate James Haydon ended the day 15th as he continues to develop the latest generation of the GSX-R1000 racer.

Rain threatened both practice sessions and briefly interrupted proceedings in the afternoon. Honda's Ryuichi Kiyonari topped the afternoon's timesheets but was eclipsed by fellow Honda rider Jonathan Rea who set the fastest lap of the day in the morning session at 1:39.872.

Superbike racing starts at 13:40 on Sunday, May 21st at Mondello Park in County Kildare and will be shown on ITV1 from 13:30 (in conjunction with British Touring cars) and Sky Sports 2 at 20:30.

Shakey:
"It's been a decent day for us. This morning I reacquainted myself with the twists, turns and bumps of Mondello Park and made some minor changes to my Rizla Suzuki for the afternoon. Those helped, the lap times came down and we now have more ideas how to improve further.

"After feeling so ill at the last round it is nice to be riding the bike at full fitness and strength. I'm relaxed and there is a lot more to come tomorrow, I think we can compete with the front runners this weekend."

James:
"This afternoon we made some changes to my GSX-R1000 that took us in the wrong direction and I ended up posting a time slightly slower than in the morning. That was disappointing but at least we learned a lot.

"I am riding the latest development version of the Rizla Suzuki with the new fuel cell designed to centralise mass and improve braking and direction changes. The potential is huge and we come closer to unlocking it with every session."

Niall Mackenzie, Race Operations Manager:
"Shakey made good solid progress today and while some other riders struggled to better their morning times this afternoon, he slashed his lap time by half a second which is impressive. He's happy and confident on the bike and looking forward to qualification.

"James is building his confidence and experience at the circuit on a development bike. He is riding well and giving useful feedback to his technicians that I'm sure will see him improve quickly tomorrow and be challenging for the front two rows of the grid.

"The weather was rain and shine today. Regardless of whether it is wet or dry, we are confident we can race for the podium positions on Sunday."

Afternoon Practice Session:1: Ryuichi Kiyonari (Honda) 1:40.018, 2: Gregorio Lavilla (Ducati) +0.004, 3: Leon Haslam (Ducati) +0.10, 4: Jonathan Rea (Honda) +0.173, 5: Michael Rutter (Honda) +0.353, 6: SHANE BYRNE (RIZLA SUZUKI) +0.872, 7: Karl Harris (Honda) +1.056, 8: Glen Richards (Honda) +1.228, 9: Tommy Hill (Yamaha) +1.358, 10: Craig Coxhell (Kawasaki) +1.524, 15: JAMES HAYDON (RIZLA SUZUKI) +2.305.