Full Speed Ahead for Suzuki
Author: Rizla Suzuki Press Release
Posted on: Tuesday, May 15 2007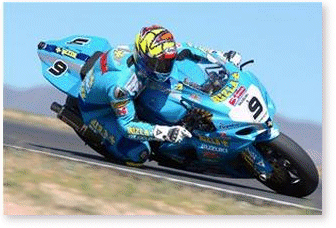 Snetterton in Norfolk is 1.95-miles long and boasts two long straights that allow the Superbikes to approach 200mph. The Revett Straight is the longer of the two straights and flows into a tight left-right chicane, making it one of the most dramatic over-taking points on the track as bikes brake from 200mph to 60mph.


The Rizla Suzuki GSX-R1000 race bikes used by Stalker and Cal are amongst the quickest Superbikes in the world, with 210bhp to call upon, making outright top speed one of the bike's core strengths.


Stalker approaches Snetterton determined to make amends for a below par performance at the previous round at Oulton Park and to step on to the podium again. Cal continues to make quick progress in his rookie year on a Superbike and is now firmly targeting top six finishes – or better.


Rizla Suzuki Team Manager Simon Buckmaster said: "We have already tested at Snetterton this season and know the circuit well. If there is one area our Rizla Suzukis are strong it is top speed; both riders will be looking to use that inherent strength to their advantage this weekend.


"Cal and Chris enjoyed an encouraging test at Mallory Park last week. Cal made progress on bike feel and set-up and Chris found an improved level of comfort with his bike. That test was part of our ongoing commitment to do all we can to help our riders challenge at the front of the pack and for race wins in British Superbikes.


"We have already proved we can compete for the podium thanks to Chris's excellent performance at Silverstone. Now it is full speed ahead for more silverware for Rizla Suzuki."


Racing starts at 1315 on Sunday, May 20th, at Snetterton in Norfolk. All the action will be broadcast on ITV1 from 1500 and on Sky Sports Extra from 2300 on the same day.