TWO STRONG RESULTS FOR OPTOMA YAMAHA RACING
Author: Helen Pask
Posted on: Thursday, Jun 07 2007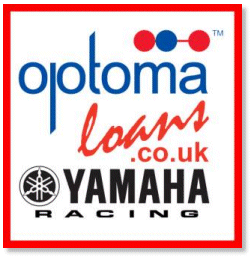 Steve who is in line for the Best Newcomer award is continuing to learn his way around the demanding public roads course and rode a splendid race on Monday taking the first lap at a steady pace being 20th fastest rider but upped his game as he grew in confidence and was clocked through the speed trap at Sulby as third fastest rider with a speed of 185.4mph on lap two.

Then came the fuel stop at the end of lap two with the Optoma Yamaha pit crew pulling out all the stops to get the bike refuelled and set Steve back on his way around the course.

Lap three saw Steve move up into 13th place and progress to 10th at the end of the fourth lap after a further stop for fuel.

The final two laps went well for Steve who was recorded doing a speed of 187.5mph through the Sulby speed trap on lap five and then posting his fastest lap of the race on lap six with an average speed of 123.141mph over the 37.73 miles.

STEVE PLATER

That was spot on, I am well happy with that. I learned quite a lot through the race and found some different lines by following some of the faster guys. I got caught out twice; once at May Hill when someone held up a chalkboard for me, I was so busy reading it that I was distracted and missed my turning point on the first lap. Then I made a mistake at the 13th milestone, which is not the place to do that.

I got on ok with the pit stops, I am used to those having done quite a bit of endurance racing but found them not really long enough. I really could have done with a bit more time to have a cup of tea and slice of cake!

I wasnít actually aiming for any particular position, I just wanted to finish the race using it as a few more laps of practise. I am really pleased with this top ten but I have no real worries about trying to beat that next time out. I just want to learn more and more this year.

Tuesday saw Steve ride to a strong 15th place in the Superstock race to finish as second fastest newcomer behind fellow Lincolnshire rider Gary Johnson.

At the end of the first lap Steve, from Woodhall Spa in Lincolnshire was placed at 23rd but made up places during the second lap and was 16th fastest rider when he came in for a fuel stop. He had clocked up the fifth fastest speed through the Sulby speed trap with a flyer at 177.1mph and made it up to 15th on the final lap.

STEVE PLATER

I now have another silver trophy to add to the one I picked up last night for the Superbike race. As a newcomer to the island races I donít expect too much but I have exceeded my expectations so far and improved my lap times with each passing lap in this race today.

ALISTAIR FLANAGAN

Steve went well on the Superbike on Monday. He did well to finish 10th in his first ever race at the TT. The team were all very pleased with his efforts and his times were good so no complaints at all.

The Superstock race could have gone a bit better but the bike wasnít handling as it should. To be honest it isnít Steveís favoured bike, he is more comfortable on the Superbike but he did well to bring it home for another silver replica and 15th place.