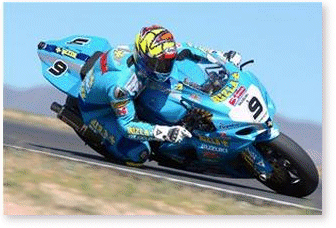 Stalker and his team mate Cal Crutchlow enjoyed an exclusive Rizla Suzuki track day at the 1.29-mile-long beautiful and twisty track last week on road bikes. It rained in the morning and was dry in the afternoon, giving the racers experience of both conditions.

"Riding Knockhill on a road bike is great fun but not as fast as my Rizla Suzuki Superbike so what I learnt on track was limited," explained Stalker. "What I did accomplish was familiarising myself with the turns, dips and climbs, as well as the new surface which offers more grip than when I last visited seven years ago.

"The pressure is on for Rizla Suzuki to get good results and I want to be the rider that delivers. Last time I visited Knockhill in 2000 I won both races and I'll not be happy unless I am fighting for the podium this weekend."

Cal won at Knockhill last year, while on his way to taking the British Supersport Championship. He said: "Knockhill is a circuit I enjoy and think it may suit my high corner-speed approach to riding a Superbike. On top of that, Rizla Suzuki won at Knockhill in 2006 so has some good set-up information that should let us get off to a fast start.

"After coming so close to breaking into the top six at the last round at Mondello Park, I am hungrier than ever to achieve that mark this weekend."

Rizla Suzuki tested former World and British Superbike Champion Neil Hodgson in an exclusive test at Cadwell Park in Lincolnshire last week and Team Manager Simon Buckmaster was there. He said: "We asked Neil to give us his opinion on our Rizla Suzuki race bikes and he gave excellent insights that we hope will help Chris and Cal to be as competitive as possible at Knockhill."

Before the Knockhill races there will be a unique opportunity to see the Superbikes in action in Glasgow on Wednesday 27th June, with Stalker and Cal being joined by Rizla Suzuki's triple BSB Champion John Reynolds. The FREE admission Superbikes in the Square event will bring the excitement, noise, speed and glamour of BSB racing to the centre of the historic city with plenty of chances to meet the stars and even see the bikes in action. Superbikes in the Square takes place at George Square in central Glasgow from 1730. For further details, visit:

http://www.glasgow.gov.uk/en/Residents/Parks_Outdoors/superbikesinthesquare.htm.


Superbike racing starts at 1300 at Knockhill in Fife, Scotland, on Sunday, July 1st. The race action will be broadcast on ITV1 from 1500 and on Sky Sports XTRA from 2000 on the same day.