John Shand Racing - Latest News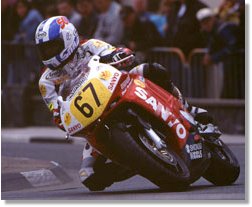 As well as the Lightweight 400 event at the 2001 TT, John Shand Racing will be entering machines in the bigger classes as a prelude to a bigger effort in 2002. A warm up for things to come in the future and to give the team some expertise.

In the Junior 600cc race we will be entering a 2001 model CBR600 machine presently being prepared in Japan and delivery will be taken from HRC (Honda Racing Corporation) later this month.

Rider for this bike will be Jun Maeda who also running a Production Honda Fireblade prepared in England for the team.

Jun will have a busy TT with three machines and in his best English, has explained he is looking forward to meeting his Manx friends again in June. In addition he looks forward to developing his skills with the new 600cc Honda and help from the team in getting the setup working for a more serious attempt in 2002.

In the Formula One, Swedish rider Jonas Svensson will compete on the teams Honda VTR1000SP1. This machine will feature front and rear suspension from Ohlins and some special parts obtained on our recent visit to Japan. Again the bike is in a development process and the team mechanics look forward to learning the setup to make these big twins work well on the TT circuit.

Mechanics from Sweden, Norway, Japan and England will be on hand to prepare and maintain the seven machines entered for the TT while the balance of the crew fly in from New Zealand and Australia before practice commences to assist with the effort.

"Crash courses in sign language are needed," commented Richard Turner the Isle of Man partner in the team who will be traveling to Sweden later in March to assist in final preparations for the TT.

There he will meet the members of a Swedish Motorcycle Technical Institute where preparation of the chassis components for the 400cc bikes is being undertaken.

Coordinating all this from a small town south of Stockholm and putting the pieces together in the jigsaw has been a major exercise, but we hope worthwhile. We all trust the TT fans get as much enjoyment from our efforts, as we do in trying to help riders in their road racing careers.




Back to Features Index
Interviews

Read about your favourite riders and what they think about the the Isle of Man TT Course and Road Racing in general. [ more... ]