Seamus Greene.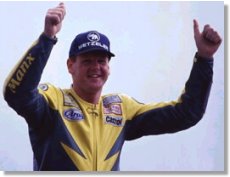 When I started working on TT Website.com I had to make a lot of contacts in short space of time before the site was launched. Lot's of people chipped in and helped me out in this regard with phone numbers and e-mail addresses but none more than Seamus Greene.

I am sure most of you know Seamus's name by now, from his Manx Grand Prix exploits last year. I have been lucky enough to get to know him over the last year, and when I approached him just before Christmas regarding the site, it was fair to say that he was more excited than I was. By New Years day, Seamus had put me in touch with just about every Irish Road Racer that I had shown interest in.





When speaking to riders that Seamus had warmed up for me, I was always welcomed by them, which I can put down to the regard that Seamus is held in by his peers. As the site has continued to grow, Seamus has been a continual source of ideas and information, and without his contributions, TT Website.com might only be half as good as it is today.

It was obvious that we had to pay Seamus back for his unrivalled assistance in some way, but I wasn't sure how best to do it. Seamus is a very articulate character, and due to his publicity skills he has already been asked to write for Stephen Wilson's Irish Road Racing site and Irish Racer Magazine. The publicity he receives from both of these avenues is well deserved, and not in need of repeating. Other than general help with his Isle of Man trips, the only thing I can think of doing personally is using my position on this site to thank him and tell the rest of you about Seamus Greene the rider and the gentleman.

Seamus is from Ranafast in Donegal. He once told me that the nearest place to where he lives is America, and it is certainly not a place well known for producing Road Racers. His interest in the sport stems from a road bike bought for transportation to and from work in 1993. When he had qualified as an engineer his first job was some five miles away in Limerick, so he spent a lot of time on the machine 'commuting'.

All this time spent riding a motorcycle started to make Seamus enjoy it, and by 1996 he had acquired a Honda Fireblade. As most people know a Fireblade is a quick bit of kit, and as Seamus got to grips with the powerful machine, he began to realise how dangerous riding a motor cycle on the roads can be and thought about the possibility of taking part in some track days.



He bought a Kawasaki KR1S and took it to a track day never actually considering racing properly. The idea was to ride quickly in the safest possible surroundings, however once he got there and realised how quick he was going compared to some of the other people riding there, the bug started to bite, and his first race was not far away.

The Irish Clubman's scene is notoriously competitive but at the same time being great value for money for a rider starting out in Road Racing. Seamus's first Road Race was at Nutts Corner on the KR1 where he finished a creditable thirteenth.

The following season came and another Kawasaki was acquired, this time a ZXR400 model which was used for all the 1997 season. Some success followed at Clubman level and the inevitable lure of racing on public roads was on its way. Seamus debuted at Dundalk of all places, but enjoyed the experience enough to want to ride the following meeting at the world famous Dundrod venue under the national Dundrod 150 guise. Fourteenth place with a fastest lap of over 90mph left Seamus a very happy teddy! He went on to ride at Fore, Skerries and Carrowdore where he had a rare spill it the infamous Cardy Corner.

All in all, a good first years experience on the roads and the 1998 season couldn't come quickly enough. A CBR600 was bought making a big difference. In what was only his second year competing and his first full one on the pure roads, Seamus finish an excellent sixth position in the Irish Support Championship. As satisfying an effort as it was, 1999 was to prove even better.

Another machine change, this time for a proven winning machine in the form of Adrian Archibald's over bored 620 CBR Honda. The aim was to win the Support Championship, but the season on the roads couldn't get off to a worse start. The story has become famous, and Seamus still has various excuses, but few of them hold any weight!




Seamus was situated in a forlorn corner of the paddock well away from most of his fellow Support Class rivals. Somehow, he managed to miss the call for his race, and it wasn't until Gordon Taylor asked him if he had a problem and why wasn't he out on the track, that the penny dropped!

The heartbreak was soon to be forgotten with a good third place at the next meeting at Tandragee. The TT break came and went and the Dundrod 150 was next up. Seamus was holding onto second place when a problem with a fuel pipe forced him to retire, losing valuable championship points in the process.

At The Mid Antrim 150 the talented Gary Jess had started to show why he is regarded as one of Irelands best Road Racing prospects with a dominant display. Seamus was third losing out to 'arch rival' Victor Gilmore who stole second.

The Mid Antrim was followed by the popular meeting at North Monaghan. Seamus was confidant and felt quicker than Victor and Gary in practice. If all went well the long awaited win could be on the cards. A great start put Seamus in a comfortable lead after the first lap. Jess and Gilmore were both to drop out trying to catch Seamus who took the victory breaking the class lap record in the progress.

The season ended at Killalane where he rode Chris Dowd's CBR600 after the gearbox on his own machine went bang. A very trusting act considering the bikes usual rider, Adrian Archibald, required the machine to sew up the Irish 600 Road Racing Championship later on in the day. Chris's faith was repaid with another victory ahead of Victor. A perfect end to a great year.

The year 2000 was one of the darkest ever for pure road racing, however Seamus Greene's emergence as one of the fastest riders in Ireland was one of the few highlights of the season. Seamus was well equipped for the 2000 campaign with sponsorship being provided by Manx Offshore Investment firm, Investasure along with Honda Ireland.

The season started with the famous Easter weekend shakedown, which unfortunately didn't go to plan. Riding the Honda Ireland Fireblade for the first time, Seamus was taught a valuable lesson at Aghadowey, when too much right arm resulted in the vicious Blade throwing him up the road breaking a couple of toes and fingers.




On the roads Seamus was consistently inside the top ten with the best result coming at what has become one of Seamus's favourite circuits; Dundrod. He finished eight ahead of Ryan Farquhar but what was most pleasing was his fastest lap at over 115mph.

As everyone knows, 2000 was a difficult season in Ireland and like all riders, Seamus felt the effects of the accidents particularly after witnessing Dean Cooper's big crash at the Mid Antrim 150. Seamus's good friend and fellow Donegal resident, Uel Duncan, was another rider who suffered serious injuries from a road racing accident in 2000, and I know Seamus has been a tower of strength for the likeable Duncan, and has been actively involved in the fund raising event's for Uel along with John Donnan.

On a brighter note, 2000 was to see the highlight of Seamus's career so far. He was one of the many Newcomers entered in this years Manx Grand Prix and along with fellow Irish riders, Victor Gilmore and Gary Jess was one of the pre race favourites even before the first lap of practice. Unfortunately, Gary was involved in the horrific accident at Kirkistown and was unable to make the trip (although he is expected to ride this year).

Seamus was very professional in his approach to the Manx Grand Prix, and had made several visits to the island in preparation. During Practice Week, he topped the early leader boards on the superbly turned out Investasure CBR. Many people were noticing the uniquely coloured machine coupled with Seamus's ultra-smooth riding style.

By mid Practice Week, Scotland's Mick Skene had taken over the top spot of the practice leader board, with some ultra fast laps. Seamus was undeterred, and continued to slowly increase his speeds, happy to hold onto second position by the end of the week.

Race Day came, and we headed up the road to Sulby Bridge to pit signal for Seamus, and Martin Finnegan who was riding in the Lightweight newcomers Class. At Ballacraine on the first lap Seamus held a 6 second lead over Mick, and it looked as though the damp conditions were suiting our man. However, Mick was on a mission and soon took over the lead, with some stunning lap times. Seamus maintained his composure, and was running well in what he thought was a safe second position.




A story from this race I will always remember is from the last lap when Mick had actually taken the lead on the road. My brother, know to most as Lurch, doesn't have the best eye sight in the world, was given the task to signal for Seamus on the day. I was further up on the bank waiting to take pictures and I could hear them hurtling down Sulby straight, past our house and into view. Mick was now in front on the road, but my brother's poor eye sight let him down, and as he expected Seamus to be first through, stuck the board out with 'P2' to Mick before putting it out again to the green bike! (nice one Ross). I told this story to Mick, and he jokingly told me that's why he went on to crash, because he thought he had been overtaken and was pushing harder. Fortunately for Ross, he hadn't expected to have a board there of course, and he didn't actually see it.

On the final lap, Mick slid off at Brandywell, losing out on almost certain victory. The talented Scot will be the first to tell you, that you have to make it to the finish line to win, and that's what Seamus did. Rarely has there been a happier winner of a race over the Mountain Circuit, however at the same time, Seamus was very sorry for Mick.

I know both the riders had become good friends during the fortnight, and still keep in touch now. His modesty showed through when being interviewed by Mr Cannel, and he was relived to find out that Mick had not been seriously injured. Seamus was a popular winner and received one of the biggest cheers of the night when he went to collect his medals at the Presentation on Wednesday of Race Week.

By then he had competed in the Junior event, finishing an great fifth, although he feels he could have made the rostrum had his wrists not pumped up so much. After the second lap he was ready to retire, but he decided to have another go. He loosened off some adjustment on the front brake and headed out again. He must have taken too much off, because he nearly ended up in the bar at the Quarterbridge when he went for the front brake and there was nothing there!





Seamus can't wait to get back to the Island to ride again and he plans to ride the Production TT on his newly acquired Investasure GSXR Suzuki in preparation for a full assault on the Manx.

I would like to take this opportunity to wish you all the best Seamus for this year, and I look forward to having you over to christen our new home. Without trying to sound too 'sucky' I'm glad to be able to say that Seamus Green is one of my friends. Without your help, I don't think this website would be anywhere near as good as it is today.

Seamus is one of the most popular people in any paddock, who is respected by his fellow riders, for his ability to ride a motorcycle quickly and safely, and his generous, fun loving personality. There are lots of very nice people in road racing and Seamus is definitely one of the nicest.





Back to Features Index
Interviews

Read about your favourite riders and what they think about the the Isle of Man TT Course and Road Racing in general. [ more... ]