Barry Wood Plans Hectic 2001 Campaign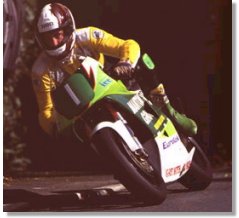 Manx rider Barry Wood is planning to take in more races than ever in 2001 on modern day machinery and classic bikes.

He will ride a 250 Dennis Trollope Yamaha at the TT in the Lightweight and Senior races. He also hopes to have use of the machine at the Southern 100 in July. Barry will be hoping for a better TT campaign this year after last years meeting was ruined for him with various mechanical problems.

On the Classic scene, the popular rider will defend his crown in the 250 Lightweight Manx Grand Prix, which he has won for the last two years. He will again ride Dicky Watson's immaculate 250 Suzuki. John Turner will be providing the sweet sounding 500 Honda again for the Junior Classic and Barry will also ride the machines at the Pre TT Classic meeting as well as a 350 Honda also provided by Turner.

The team will be once again making their annual pilgrimage to the famous Skerries 100 in July where he plans to ride in the 250 Junior race as well as the Classic. This season, he hopes to take in several more Irish Road Races, depending on time and the all-important budget.

All in all a hectic season for the self confessed TT fanatic from Willaston and with what looks like the right machinery underneath him, Barry could be in for a very successful 2001.




Back to Features Index
Interviews

Read about your favourite riders and what they think about the the Isle of Man TT Course and Road Racing in general. [ more... ]