Colourful American Returns to TT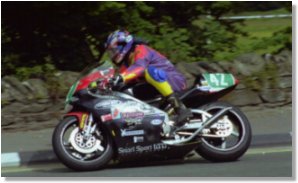 The man with the multi coloured hair from the USA, Wade Boyd, will be back at TT 2001 and will be competing in as many races as he possibly can.

Wade had become a cult figure at the TT in recent years, with his unique personality and willingness to ride any bike and any class. This year is no different with plans to take part in four races.

He will use a ZX7 Kawasaki in the Formula One and Senior Races, a 400cc Honda in the Lightweight Race, a 900cc Kawasaki in the Production class and a custom built 650cc Kawasaki in the Singles event. Don't be surprised to see Wade in the Sidecar Race either, with his Manx built outfit as featured in the Channel Four documentary 'Motorbike Madness' a couple of years back. He has also been know to contest the Moto Cross events in he past, and I'm sure if someone has a bike to lend him he'll ride it!

We will be publishing an in depth interview with Wade soon, so watch this space.




Back to Features Index
Interviews

Read about your favourite riders and what they think about the the Isle of Man TT Course and Road Racing in general. [ more... ]