Manx Rider aiming for Newcomers Glory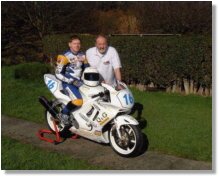 Local rider Tom Clucas has aquired an ex Philip McCallen, Motor Cycle City CBR600 Honda for the coming season with a view to riding it at this years Manx Grand Prix.

Tom, who is a relative newcomer to the sport, had a successful 2000 in the Isle of Man and at several short circuit venues in the UK. The Manx is his main goal for 2001 where he will be entering the Newcomers, Junior and Senior races all on the CBR.

Other than the Manx, you can expect to see Tom in action in the local Center Championship, The Steam Packet International meeting at Billown, the Southern 100 in July, plus selected rounds of the BMCRC, MRO and New Era Championships on the Mainland.

On the subject of the Manx Grand Prix, Tom told us 'The Newcomers Race has always been my only ambition, firstly, as you only get one chance at it, and it's probably my only chance of winning a Manx.'

'As for the others classes, I'd be chuffed with finishing in the top 20.' '

I'd probably go faster the more years I did it, but I don't know how long I'm going to be doing this as I'll probably be sick of being skint all the time.'




It is great to see such confidence in a young local rider, and he will hope to follow fellow local Milky Quayle's progress from the Manx Grand Prix to the TT I'm sure. He went on to tell us 'My other ambition, as with every one else's I suppose, is to do a lap of over 100mph but I believe there's 110mph laps in me (there'd better be now), which in recent years would be good enough to win, barring freaks like Skene, Greene etc.'

'The fastest locals' fastest lap in the actual race in the last few years has been 105.75mph so I know it's a tall order, but I believe I can do it.'

Tom's main sponsor for 2001 will be Chris Preston who is a local enthusiast.




Back to Features Index
Interviews

Read about your favourite riders and what they think about the the Isle of Man TT Course and Road Racing in general. [ more... ]