Dwight Mitchell returns with an MV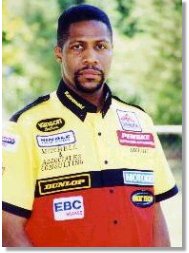 Dwight Mitchell from New Jersey USA returns to the TT this year riding an MV Augsta F4S in the Formula One and Senior Races.

The twenty nine year old rider missed last year's event, but is planning a more focused return in 2001. He told us 'I want to concentrate on racing this year and not on running a team. I was not focused in 99 because I was too busy trying to run the Team USA show'.




It will be the first time an MV Agusta has been ridden competitively at the TT for almost twenty years, and along with the rider's super-professional approach, there is sure to be a lot of attention focused on him come June.




Back to Features Index
Interviews

Read about your favourite riders and what they think about the the Isle of Man TT Course and Road Racing in general. [ more... ]