Dennis McCullough quits Road Racing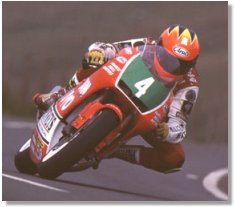 Ulsterman Dennis McCullough has quit Road Racing after being seriously injured in the accident that claimed the life of his close friend Gary Dynes, and young star, Andrew McLean, at North Monaghan last year.

McCullough who finished second to the late Joey Dunlop in last years Ultra Lightweight TT, had put off making a final decision on his future in the sport, largely due to the good progress he has made since his accident. However, with a family and full time job to take into consideration, the popular McCullough has decided enough is enough.




Like his uncle, the great Raymond McCullough before him, Dennis has entertained the fans of Pure Road Racing for many years with his neat and stylish approach to the sport. He will be sadly missed on the track, but I'm sure everyone would join me in wishing him all the best for the future, and we look forward to seeing him at race meetings this year.




Back to Features Index
Interviews

Read about your favourite riders and what they think about the the Isle of Man TT Course and Road Racing in general. [ more... ]