Archibald Teams up with Red Bull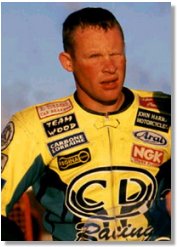 Irish Road Race star, Adrian Archibald will run his Honda Racing Motorcycles in the colours of energy drink Red Bull in 2001.

Team Manager, Davy Wood has negotiated a deal with Red Bull, who will provide additional funds for Adrian's 2001 campaign. All the bikes will display the Red Bull logo on the side of the fairing and seat, along with the new Honda Racing badge and Adrian's other new sponsor, The Royal Hotel Cookstown.




Adrian's wife Melanie told us 'Red Bull are particularly interested in the Coca Cola North West 200 for obvious reasons, but the are highly supportive of Adrian's other commitments, unlike some big sponsors'.

She joked 'They are not interested in Adrian doing any PR work (thank goodness) but just want him to concentrate on putting his best efforts into performing on the bikes.

Along with Honda Racing, Red Bull and the Royal Hotel, Adrian will be supported by his long-term backers including Arthur Faulkner Plumbing, Eddie Torens Car Breakers, Holgar PVC windows and his own supporters club.

The popular Ballamoney rider is facing what should be his most important year of a successful career, so far. Honda will be looking at him to win at all the major Road Races this year, where he will ride CBR600's and trick Honda Firblade's alongside John McGuinness.




Back to Features Index
Interviews

Read about your favourite riders and what they think about the the Isle of Man TT Course and Road Racing in general. [ more... ]