Milky enters Singles TT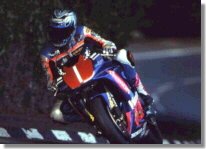 Richard Quayle has added to his already impressive TT line up, with a 500cc Molnar Manx Norton, which he will ride in the Singles Race.

The machine which will be jointly entered by Peter Lockwood and Richard's regular backer, Martin Bullock, will be rode with the intention of setting it up for a serious crack at the Classic Manx Grand Prix in August.

Richard was to test the Mark Johns RC45 this weekend, which will be rode at the North West 200 and TT. The team now have three motors for the machine with two bored out to 890cc and a third at 790cc. The 890cc motor will be geared to pull in excess of an amazing 190mph, and it is hoped that the machine can be a match for the mighty R1 Yamahas.

The fist round of the Isle of Man Centre Championship takes place this Saturday 1st of April, and there is a possibility that Milky might get the chance to use the machine in anger there, although that is still to be confirmed.

Our in depth interview with Richard will available to read on this site in the coming weeks.




Back to Features Index
Interviews

Read about your favourite riders and what they think about the the Isle of Man TT Course and Road Racing in general. [ more... ]