Britton Secures 400 TT Machine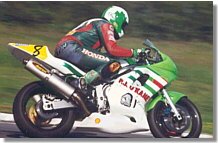 Richard Britton is the latest star name to enter the 400cc Lightweight TT for 2001.

The Enniskillen ace will have the use of Mark Hamilton's RVF 400 Honda for the four-lap race, which is run along with the 250c machines.

Britton will be up against fellow Ulsterman Ryan Farquhar and Brian Gardiner along with Chris Dowling, Nigel Davies, Steve Linsdell, Dave Madsen Mygdal and last year's winner Brett Richmond amongst others in what could turn out to be one of the races of TT 2001.

Britton's Lightweight entry now means that he will ride in five races. The others being the Junior, Senior, Production and Formula One, all on Patsy O'Kane's Yamaha machines.



Back to Features Index
Interviews

Read about your favourite riders and what they think about the the Isle of Man TT Course and Road Racing in general. [ more... ]