Rutter can Ride It, But Only on a Kwacker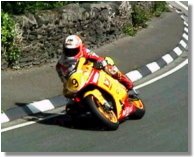 TT superstar Michael Rutter, is allowed by his Kawasaki UK contract, to compete in this years Isle of Man TT; but only on a Kawasaki.

The team have no plans to take part in the TT, but are willing to let their star rider take part. But due to the fact that it would have to be aboard Kawasaki machinery, and there is a distinct lack of competitive machines, it now looks very unlikely that the popular midlander will be on the start line come June.

Rutter, who won three races at last years North West 200 and also won the 1998 Junior TT, will be greatly missed in the TT entry already so heavily depleted after last year.




Back to Features Index
Interviews

Read about your favourite riders and what they think about the the Isle of Man TT Course and Road Racing in general. [ more... ]