Jess Aims for MGP Success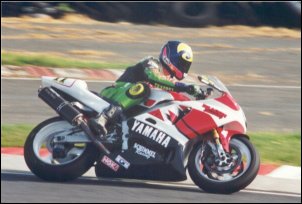 Twenty eight year old Gary Jess from Moira in Northern Ireland returns to Road Racing this year after being involved in a horrendous accident at Kirkistown last summer.

Gary was in intensive care for over a week after his accident, but has made a full and speedy recovery, and can't wait to re start his promising career. Last season Gary rode for Shimmel Racing and was enjoying a successful campaign up until his accident.

Brilliant rides at Scarborough, Aberdare Park and several venues in Ireland had alerted many to Jess's ability as a rider, and he was to start the Newcomers Manx Grand Prix as one of the pre event favourites. That wasn't to be, and it looked as though the talented Moira rider's career was over.




In 2001 Gary will campaign a 600 R6 Yamaha supported by Davy Glover and Crossan Motorcycles. He will make his debut this season at Kirkistown on Easter Monday, before taking part in the North West 200 in May. His main aim however is the 2001 Manx Grand Prix Newcomers race where he will certainly be amongst the favourites, and will be looking to repeat Seamus Greene's success of last year.

It's great to see a talented young rider looking at Road Racing so positively in this difficult time for the sport, and we wish him every success in the future.



Back to Features Index
Interviews

Read about your favourite riders and what they think about the the Isle of Man TT Course and Road Racing in general. [ more... ]