Jurby Race Meeting


Every time I leave a race meeting at Jurby Airfield I always say that I'm not going back for a while, but each time I find myself back out there braving the elements just to catch a glimpse of a racing bike being ridden in anger, which to be honest is something we may not see much of this year.
| | |
| --- | --- |
| Matty | Paul |


Today we were experimenting with my new roving cameraman for the TT, Matty Boyd and having a general play round with the camera. However there was lots of interesting goings on out at Jurby today, which will interest many of you TT fans out there I'm sure.

It was great to see Paul Dedman and Decca Kelly making comebacks to racing, which many people thought might never happen. Both riders were in horrific accidents and it has been a long haul back for both of them. They both seemed to be lapping fast with each race, and I'm certain it won't be long until they are back competing at the top of this great sport once more. We wish them all the very best.

| | |
| --- | --- |
| Decca Kelly | Paul Dedman |


Milky Quayle once again showed why he is rated as the best Manx rider at the present with some dominant performances in the damp conditions. He was out for the first time on Mark John's super quick and super trick RC45 which has been bored out to 780cc. He was also out on his 250cc Aprilia and his R6 Yamaha, although he wasn't having it all his own way in the smaller classes.

| | |
| --- | --- |
| The Mighty RC45 | Milky! |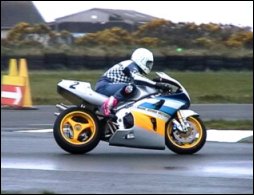 In action


Manx Grand Prix star Nigel Beattie was flying on his little 250cc Honda, and managed to edge out Milky in the first 600cc Race. Nigel is a good bet for honours in the Manx Grand Prix once again, in which I think will be his last year in the event whether he wins it or not. He has strong TT ambitions, and I'm sure he has the talent to fulfil them.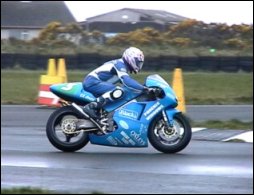 Nigel Beattie


Other TT and Manx Grand Prix competitors out riding well included Paul Hunt, Ian Pattinson making what I think must have been his first outing at Jurby, Chris Palmer who was going well on the 125cc machine but still seems to be having trouble adapting to the big R1 and the stylish Paul Corrin.

| | |
| --- | --- |
| Paul Hunt | Ian Pattinson |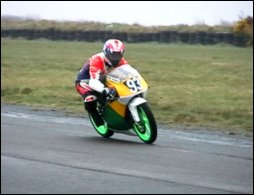 Chris Palmer


Tommy Clucas, who is hopeful of success in this years Manx Grand Prix Newcomers event was another ride to impress on the day with a storming ride to third place in the second Championship Race. Look out for him this year.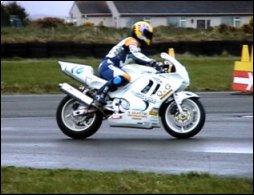 Tommy Clucas


It is good to finally see some interest in the Sidecar events out at Jurby, after many lean years. The grid could hardly be described as full, but it is improving. TT Website columnist Dave Molyneux was absent due to ongoing work on his latest outfit, but Nicky Crowe and Darren Hope kept the spectators entertained with some fantastic performances.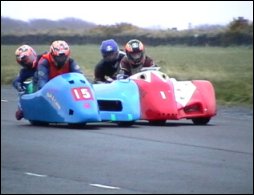 Close racing at Jurby


The duo hope to make their TT debuts this year, and if current form is anything to go by, the should be hopeful of a good performance, which could give them the Newcomers Award and certainly a chance at least of lapping over 100mph. Look out for them this year, they are certainly my tip for the top.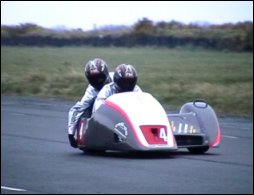 Nicky Crowe and Darren Hope


I was pleased today to see the TT Website logo appear on a few machines. Hopefully it will be on a few more before too long. Young Richard Murphy was one of the riders carrying the log for us, on his emaculate Mannin Collections 125cc Honda. Richard is a lad who has the right amount of talent and enthusiasm to carry him far in the sport, and he will be hopeful of emulating his brother's success, who is a 125cc British Supercup runner.

| | |
| --- | --- |
| The bike | The rider |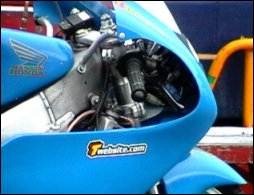 The Logo!


Rob Sells, son of Manx Grand Prix veteran Dave was another to carry the logo. Rob is another ultra enthusiastic rider, who is totally devoted to his racing and is improving with every race and hoping to turn his local form into success in the ACU Star Championship.

| | |
| --- | --- |
| The bike | The rider |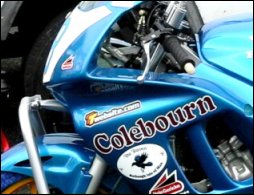 The Logo!


So all in all, a very interesting, if not cold day. The Andreas Club are certainly trying hard to get the action moving a bit quicker these days, and the pastie(s) I had from the van were hot today too, so you can't complain. The action resumes tomorrow, so if you are on the Island, get yourself down to Jurby for a skeet. You never know, it might be the only racing you see for a while.


Paul Phillips and Matthew Boyd for TT Website.com

Back to Features Index