Helmet's on Fire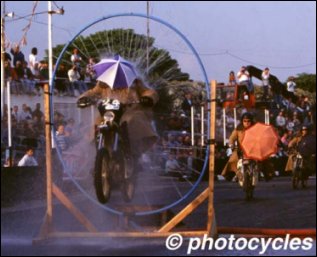 A devastating fire in the premises of the Wilson & Collins factory over the weekend, has resulted in the Purple Helmets Motorcycle Display Team losing all their props and equipment, used for their stunt shows.

Over a five year period, the team have built up their stock of weird and wonderful contraptions, which include the famous roll-over bike and the long bike, as well as their stable of racing wheelie bins, all of which have been destroyed.

In the true spirit of their dead-pan humour, a spokesman from the Purple Helmets who surveyed the aftermath of the damage, said that at first glance, it was difficult to spot the damage as everything was still matt black and that the fire seemed to have made improvements, but on closer inspection, the true horror of the blaze was revealed.

All their painstakingly constructed mobiles as well as aluminium engines and wheels have been destroyed. The Helmets have become a major attraction for bike fans throughout the UK and with only 5 weeks to this year's TT Festival, they now face the massive uphill task of trying to rebuild some of their wacky inventions in time for their biggest show of the year at Onchan Stadium in the Isle of Man.

But without any bikes or motors, they will be struggling to create a show, so they are now appealing to anyone on the Island who can help by donating their old Honda C70 or 90's to the team.

The Purple Helmets show will definitely go ahead even though the TT races are cancelled. They can survive without the races but can the races survive without the Purple Helmets? Unlike their illustrious political leaders, the Helmets made their decision to go ahead, 3 weeks ago, whilst quaffing a few light ales in their adopted HQ, the Railway Inn at Union Mills.

Their feelings were that there would still be a lot of visitors to the Island so it would give them something to do - some people will watch any old rubbish! The show will take place at Onchan Stadium on Wednesday 6th June at 7pm, and will again be supported by Matt Coulter (kangaroo kid).

With regard to the fire damage, they are confident that they can rebuild most of the contraptions in time. At least they won't need to paint them - they're already smoke damaged matt black! Also they will be out on a few midnight raids to replenish their stock of wheelie bins!

Finally, there is no truth in the rumour that the props and contraptions were deliberately burned as a precaution against contracting Foot and Mouth disease. Worse social diseases could easily be caught from close contact with any of the Purple Helmets!

Out of the ashes a new improved "phoenix" will rise!!

Any bikers who can help the Purple Helmets contact Jim Davidson in Douglas on 01624-686661. Even if you don't live on the island if you can squeeze an old moped or trials bike into your tranny van for them when you're going over they'd be grateful! You can then have the satisfaction of watching your old knacker in action at their shows.




Back to Features Index
Interviews

Read about your favourite riders and what they think about the the Isle of Man TT Course and Road Racing in general. [ more... ]