Anxiety For Tourism Industry After Cancellation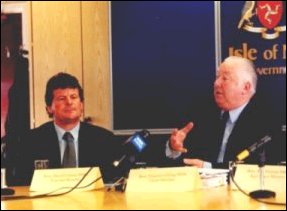 ANXIETY is growing among hotel bosses as the news of the TT cancellation begins to sink in.

An emergency meeting has been called between members of the accommodation sector who are concerned about what will happen next.

A senior member of the Department of Tourism and Leisure could attend the meeting, which will take place at the Empress Hotel, Douglas, on Monday at 2pm.

Meanwhile tourism chiefs themselves are holding a series of meetings to discuss marketing and the support package.

Norman Mackey, owner of the Ascot Hotel in Empire Terrace, Douglas, and former president of the Hotel and Guest House Association, said he had written to Chief Minister Donald Gelling asking him to be careful how he allocates the proposed support measures for the tourism industry.

During Tuesday's TT press conference Mr Gelling announced a £4 to 5m recovery package for tourism.

Those to benefit from it could include hoteliers and other people who might be hit hard by the cancellation such as those selling food and merchandise.

But exact details of the scheme have not been announced yet.

'It is all very well coming up with different packages but I want to know how they intend to allocate it,' said Mr Mackey.

'I have written to the chief minister and asked him to please be careful how he spends his money. The government has a history of throwing money into the Irish Sea. I want to know how he's going to execute this package.'

Mr Mackey said he was not concerned for his own business, only the smaller units on the promenade whose livelihood relies completely on TT fortnight.

'I am concerned that these people will be overlooked and the money will go over their heads into another system.

'I fear that they are going to come up with a complicated mechanism and marketing strategy involving TV ads saying "come to the Isle of Man, we haven't got foot-and-mouth". That is not the way forward for this industry.

'If the farmers lose sheep, they don't replace the sheep with hay, they only replace the sheep. If the small hoteliers have lost income, are they going to replace the income?'

Mr Mackey said the money given should be enough to support small hotel owners for the next 12 months and warned that if this didn't happen, there would be a dire knock-on effect for next year's TT festival.

'If hotels close down this year because of a lack of income from the TT, they won't be back next year. Again, this is damaging the TT.

'We have got smaller units on the promenade that will disappear over night unless they come up with some sort of package that protects them from the creditors and the bank.'

Chief Minister Donald Gelling told Tynwald on Tuesday: 'Hopefully, the season will remain buoyant. But we must accept there will be a loss of business.

'That loss of business is something we need to address and we intend to address. We are clear that we must try and offset the effects of the cancellation and we are looking urgently at that. We will announce the additional measures that we propose as soon as we are able. What I can say at this stage is that the Treasury and Department of Tourism and Leisure are looking for a range of measures aimed at easing hardship and cash flow difficulties and that we are prepared to put between £4-£5m into addition support and marketing.'

But there has been criticism of the government.

Chris Robertshaw, managing director of the Sefton Hotel, who fought for the TT to go ahead, said: 'I come to the conclusion that the Council of Ministers is not being serious in its consideration of tourism.'

Other people involved in tourism have spoken about the decision.

Rosie Sayle, owner of the Sulby Glen Hotel on the TT course, said the cancellation was 'an understandable decision but a severe blow' for her business.

Speaking on Wednesday she said: 'Yesterday lunchtime I had a full house of residents. At lunchtime today I am completely empty.'

As well as 18 hotel guests the pub hosts hundreds of bikers who camp at the nearby Claddaghs campsite. It has so many German regulars it's known as the 'unofficial German embassy'.

Mrs Sayle said that with the campsite being closed down and visitors urged to stay away from the countryside, she wouldn't benefit from any TT trade there is.

She will still erect the marquee, licensed for 200, but won't take on the 10 extra staff she'd have needed to cope with the crowds.

Mrs Sayle has run the pub for 15 years and worked there since 1971. She said: 'I don't think we'll bounce straight back from this. It's such a crucial part of our business that it's put a severe dent in it.'

Bushy's boss Martin Brunnscheweiler accepts the cancellation but said he would be hit hard.

'On the brewing side, with the races off, that will affect a lot of pubs we supply and I think that would hurt us.'

Bushy's beer tent on Douglas Promenade will still go ahead, but Heron and Brearley retail director Grant Paterson said the beer tent behind the TT Grandstand would not although the brewery hoped to push ahead with most of its events.

Tourism and Leisure Minister David Cretney is urging hotel owners with concerns to contact the DTL.

He said they will also possibly looking to assist riders countries such as New Zealand who may have machines in transit and that he has written to local authorities seeking their views about the festival.


Just a thought here - Perhaps some official consideration should also be given to those who actually make the TT event what it is - The riders and Sponsors, and we mean ALL of them, not just the big money names.

What compensation are they going to receive ?

Can Mr Cretney enlighten us as to what consideration is being given towards compensation for them ?
Back to Features Index
Interviews

Read about your favourite riders and what they think about the the Isle of Man TT Course and Road Racing in general. [ more... ]