Britton Plans for the Rest of Season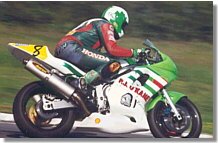 Enniskillen's Richard Briton who won the 2000 North West 200 Production Race, is one of many Pure Road Racers having to contemplate a season without the thrill of racing on public roads.

He, along with Adrian Archibald is one of many Irish riders looking to the UK short circuit scene for action. We caught up with him recently for a quick chat.


I hear you have put in an entry for Scarborough next week?
Yeah I've put an entry in, but I don't know if we are going to bother with it. I'm having a crack at this MRO Championship.

I see that you have been doing that. So you are going to do a few more rounds are you?
Aye. I got a tenth the other week there at Snetterton in the Production race, but the other guys were practicing from Friday but I broke down twice on the way there (laughs), got there about three in the morning. Christ almighty, what a session it was trying to get down there (laughs).

I missed the first un-timed practice but then I did get out on the Powerbike before going straight out on the Production bike. I hadn't even ridden that, and we only finished building it on the Wednesday.

It was as it comes out of the box, without a sprocket changed on it or anything like. It wasn't too bad like, but we need a bit more time with it. I was happy enough with tenth all right, because it wasn't the quickest machine out there.

So are you going to carry on racing the short circuits until the Road Races start up again?
I don't know if they are going to get any road races sorted out before the end of the year, but until they do we are just going to keep going backwards and forwards to this MRO Championship.

I think the next one is at Castle Coombe or somewhere. I think that's down south somewhere.

Do you get a bit of prize money at these meetings?
Aye there is prize money on them like, but it's only something like £300 for a win and then it goes down from there, so I'll be coming home with nothing (laughs).


Anyway, cheers Richard, speak to you again.

No problem Paul, speak to you soon.





Back to Features Index
Interviews

Read about your favourite riders and what they think about the the Isle of Man TT Course and Road Racing in general. [ more... ]