Sand Racing moves to Mad Sunday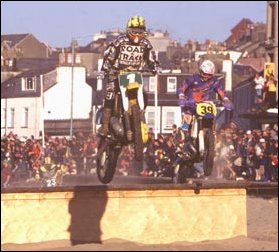 The popular sand racing event usually held in Peel on the Thursday evening of TT practice week has been moved to Mad Sunday afternoon. In a letter to Peel Commissioners, Ramsey Motorcycle Club, which organises the event, says that conditions on the Sunday afternoon would be perfect for racing. There will be no ramp on the beach this year because of the ongoing Iris sewerage work in the town.

In the letter, the RMC also points it does not receive any sponsorship from the board.

The entry fee is £15 per rider, but £12 of that goes on insurance. The event brings 3,000-5,000 people to Peel, the club says.

At last week's meeting, members of the commissioners regretted that a government directive does not allow rate money being given to charities. However, the view was expressed that the sand racing was not a charity but a promotion.

John Lightfoot said that he would be willing to give up his £20 attendance allowance per month for a couple of months to provide prize money. It was agreed that the matter should be referred to the recreation and entertainment committee.

Meanwhile, the Peel branch of the RNLI, which holds a flag day on the Thursday of practice week and collects on the promenade at the Sand Racing, has asked if the flag day can go ahead on the Thursday morning but a collection be taken on the Sunday afternoon.

The charity has offered to give half the proceeds to the Ramsey Motorcycle Club but the club members do not want to take money from the lifeboat.




Back to Features Index
Interviews

Read about your favourite riders and what they think about the the Isle of Man TT Course and Road Racing in general. [ more... ]