Andreas Racing Association TT Meeting Preview
| | |
| --- | --- |
| | The only racing you will be able to see in the Isle of Man this TT week takes place at Jurby Airfield on June the 2nd. The event is to be staged by the Andreas Racing Association, however, it is a one off meeting, and does not count towards any of the local Championships, and there is prize money on offer in all classes. |

The thirteen race programme sponsored by The Steam Packet Company is due to start at 11:30am for practising with racing due to get underway at 12:30am. Additional race sponsorship has kindly been provided by Conister Trust, Betinternet.Com, > Parkinson Group, Celtic Leathers, Cu-Plas Callow, Gary Rutter Joinery, Trevor Riley Groundworks and Bushys.

Several track improvements have been made and there will be grandstand facilities in place for the first time I can ever remember at Jurby. There are other facilities such as toilets and refreshments and it will cost you £2 to get in.

The meeting has attracted interest from several riders who do not normally contest the Jurby Airfield meetings, including roads specialist Paul Duckett, Manx Grand Prix star Ian Pattinson and British Forgotten Era Championship contender Brian Kneale, but all eyes will be on the two visiting Irishmen, Seamus Greene and Ryan Farquhar.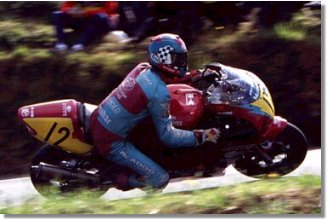 Ryan Farquhar



Although a newcomer to the circuit Senior Manx Grand Prix winner Farquahr must start as one of the favourites for the main 1300cc races, particularly without circuit specialist, Richard Quayle to contend with.

Travelling partner Greene, riding his Investasure 1000cc Suzuki has enjoyed a good season on the Irish Short Circuits also, and should be able to push Farquhar all the way.

Top local Manx Grand Prix rider, Nigel Beattie is brilliant at Jurby on his 250cc Honda. He has recently started to ride a 750cc Kawasaki for Des Collins, and is expected to use the machine in the Open races, and should be in with as good a chance as anyone for glory.

Fellow Laxey man Juan Kinnish will be a threat on his 600cc Honda, as will similarly mounted Paul Dedman, who is continuing his road back to fitness after his 1998 North West 200 spill.

Others who should feature will be Paul Hunt his Cringle R1 Yamaha, ex-British 125cc Champion Chris Palmer, Gary Carswell, Paul Duckett, Chris Dowling, Ian Pattinson, Tom Clucas, Rob Sells and Brian Kneale, who is hoping to be out on his super fast RG500 Suzuki.

Nick Crowe and Darren Hope are expected to dominate the three Sidecar events on their 600 Yamaha. The only pairing likely to get close to the flying Crowe and Hope are the reining Manx Champions, Brian and Neil Kelly, however, they have failed to get close to them so far this season.

There are two 1300cc Clubman's events, and the smart money would have to be on Tom Clucas after some fantastic performances this year already aboard his ex Philip McCallen CBR Honda. His most likely challenger is Rob Sells from nearby Ballaugh who is capable of staying with and beating Clucas, as he has proved already this year.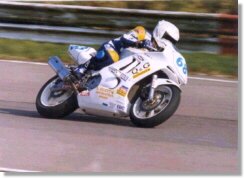 Tom Clucas



An early season crash dented Sells's confidence early on, but he seems to be getting back to form of late as his recent results prove. Philip Bell-Scott, Dave Kinrade and John Hulley could all be in with a shout of the honours as well.

There will be two Forgotten Era races and they should both be between reining local Champion Brian Kneale and current Championship leader, James Broughton. Kneale hasn't ridden at Jurby all season, contesting the British Championship instead with some success, holding on to second position in the current rankings.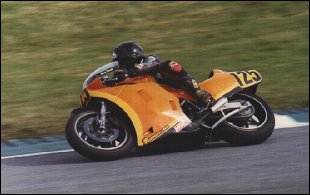 Brian Kneale



Broughton has dominated the local scene all year, but is likely to find it more difficult this time out. There are a number of overseas entries in this class to look out for also.

The concurrently run 125cc class should be a win for ex-British Champion Chris Palmer, who has dominate the whole season so far. However, Chris Grose is expected to make his first appearance of the season to the track, which he was master off last year, and will be determined to show he still has it against his good friend Palmer.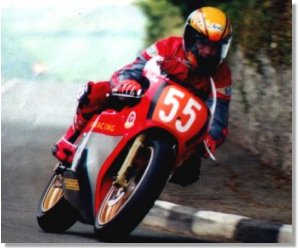 Chris Grose



Norman Kneen will go well in this class as will young Richard Murphy on his Mannin 125cc Honda. Keep a look out for two other young locals also. Daniel Sayle from Sulby is the current holder of the Race School award and is doing very well in his first full season.

Connor Cummins at just 15 years of age is even more impressive, and has shown great maturity and style in his first full season. The abnormally tall Ramsey rider is enjoying his battles with fellow novice Sayle and the two of them are showing great promise for the future.

The two Formula 600cc events could prove to be the best races of the day with any number of riders capable of winning.

My money is on a straight battle between the 600cc Kawasaki of Farquhar and the 250cc Honda of Beattie.



| | |
| --- | --- |
| Nigel Beattie | Nigel Beattie |


Paul Dedman is the outsider, who is continuing to regain bike fitness and confidence and could easily spring a surprise in this race. Juan Kinnish is another who will be battling for the win, after enjoying a recent good spell on the Mainland.

Chris Dowling, Paul Corrin, Gary Carswell, Greg Broughton, Tom Clucas, Rob Sells and Norman Kneen are expected to fill the lower leader board positions in this class.

The dark horse could be Big H himself, Paul Hunt, who is hoping to ride one of the new 600cc Suzuki's he was supposed to ride in the TT. The bikes have performed well in the UK so far this year, and should be powerful enough to pull his hefty frame round quick enough to be on the pace!

The final class in the programme is the Formula 400cc, which the 125cc machines will be eligible for. Farquhar is entered aboard the John Shand 400cc Honda rocket ship, but it looks unlikely that it will be on the Island in time.

Therefore, 125cc stars Palmer and Grose should make the running, with Paul Corrin on his 400cc Kawasaki likely to be their main challenger. Others to look out for include Dave Madsen Mygdal, Kevin Ago Murphy, Norman Kneen and Neil Muirhead.

If the weather holds out, it should be a great days action. We are covering the meeting in full as are the Andreas Clubs own site and we ill have race reports and pictures on the site shortly after the meeting. Be sure to pop in to the Sulby Glen Hotel after the racing for a pint, where several of the Bulletin Board readers and posters are hoping to meet up for a few drinks, and several of the riders including Farquhar and Greene could pop in also.


Andreas Racing Association www.andreas-racing.iofm.net
Nigel Beattie www.nigel-beattie.iofm.net
Seamus Greene www.roadracing.fsnet.co.uk
Brian Kneale www.briankneale.iofm.net
Juan Kinnish www.juankinish.co.uk
Tom Clucas www.tomclucas.com
Ryan Farquhar www.mcadoo.co.uk



Back to Features Index