The Des D'Arcy Motors Skerries 100 2001 Race Report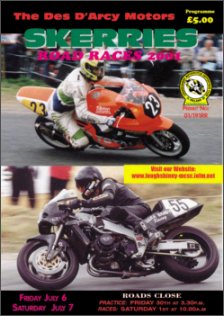 After the glorious sunshine Friday night practice was held in, the crowd attending the 2001 Skerries 100 Road Race were greeted to the 2.9mile Milverton Circuit with gloomy overcast weather.

However, the conditions were not going dampen the spirits of the race hungry spectators, who were given a taster of the action to come at the Dundalk Road Races the weekend before.

The Loughshinny Club had assembled one of the best line ups at a National Road Race in Ireland for many a year with Ian Lougher and Paul Hunt make their debut, and Richard Britton, Gary Jess and Adrian McFarland making a comeback to the circuit after a couple of years absence.







Classic Race A 250/350cc 7 laps
The eleven race programme got under way with the Classic A race for 350cc and 250cc Machines. Barry Wood, who won the race last year was a non-starter, so it was left to 350cc fast men Colin Rodgers and Paul Coward to fight it out, and fight it out they did.

They were together on the road for the entire race distance with Rodgers leading for most of the way. When they came upon the back markers towards the end of the race, the overtaking manoeuvres were nothing less than breathtaking. At the end it was Coward that took the victory by the smallest of gaps, but neither rider deserved to loose in one of the best Classic races I have ever seen. Manxman Derek Whalley took another Skerries rostrum position coming home in third ahead of Chris McGahn who started in the second group. Bud Jackson was the first 250cc rider home in sixth.

1st Paul Coward 250 Yamaha 14.19.90 85.573
2nd Colin Rodgers 350 Honda 14.21.08 85.456
3rd Derek Whalley 350 AJS 14.31.17 84.466
4th Chris McGahan 14.31.54 84.430
5th Raymond Graham 350 Honda 15.19.78 80.002
6th Bud Jackson 250 Suzuki 15.25.26 79.528
7th Richard Elliott 350 Honda 15.25.56 78.502
8th Charles Wield 350 AJS 15.44.07 77.948
9th Vic Haskell 350 BSA 15.49.13 77.520
10th Gerard O'Kane 250 Suzuki 6 laps
11th Godfrey Shaw 350 Honda 6 laps
12th James Valentine 350 Honda 6 laps
13th Mark McCloskey 350 Honda 6 laps
14th Alex McVicker 250 Honda 6 laps
15th Tony Carton 350 AJS 6 laps
16th Robert Wright 250 Honda 6 laps
17th Eddie McMullen 250 Honda 6 laps

F/lap Paul Coward 250 Honda 2.00.52 87.222



---

Open Support Race 9 laps
If the Classic Race was a closely fought battle, the Open Support Race was dominated by one rider; Ian Forristal. After taking the lead at the end of the first lap, he was never caught winning by almost twenty seconds at the close on his R6 Yamaha. Fergus Guerin and Richard Mooney had a race long battle for second place with Guerin coming out on top. Alan Connor came home in fourth spot ahead of local man Declan Lynch.

1st Ian Forristal 600 Yamaha 17.01.91 92.580
2nd Fergus Guerin 750 Suzuki 17.18.31 91.117
3rd Richard Mooney 600 Yamaha 17.21.06 90.007
4th Alan Connor 600 Honda 17.30.94 90.022
5th Declan Lynch 600 Yamaha 17.31.49 89.975
6th John Scott 600 Honda 17.34.43 89.724
7th Derek Wilson 600 Honda 17.38.90 89.346
8th John Cahill 750 Yamaha 17.44.24 88.657
9th Donnacha Daly 600 Honda 17.54.89 88.016
10th Graham Taubman 600 Honda 18.02.71 87.801
11th Dennis Booth 600 Honda 18.06.62 87.066
12th Terry Simpson 600 Honda 18.19.01 86.022
13th Johnny McCay 600 Honda 18.29.57 85.265
14th Brendan Desmond 600 Honda 18.36.14 84.764
15th Rob Colvin 600 Honda 18.40.00 84.471
16th Steve Carr 600 Honda 18.40.64 84.423
17th Godfrey Shaw 600 Honda 18.03.32 82.748
18th Huw Huws 600 Norton 8 laps

F/lap Ian Forristal 600 Yamaha 1.50.83 94.640



---


125cc Race One 7 laps
Robert Dunlop was the pre race favourite for the first 125cc Race at Skerries, but all eyes were on Welsh newcomer Ian Lougher. However after a first lap incident involving Victor Gilmore which Dunlop was caught up in it was in fact Marc Curtain who was first across the line after the first lap with Lougher hot on his heels and Dunlop back in seventh. It wasn't long before Lougher took the lead but Robert Dunlop was on the move as well taking third place by the end of the third lap. Curtain retired leaving Lougher and Dunlop to fight it out to the death. Dunlop took the lead at half distance and was never passed keeping enough distance between himself and Lougher. Lougher's fellow Welshman and last year's winner, Nigel John took third place after starting from the second group with Rikki McCready in fourth.

1st Robert Dunlop Honda 13.19.06 92.089
2nd Ian Lougher Honda 13.21.09 91.855
3rd Nigel John Honda 13.32.99 90.510
4th Rikki McCready Honda 13.33.67 90.435
5th Nigel Moore Honda 13.38.70 89.879
6th Darren Burns Honda 13.39.35 89.808
7th Trevor Ritchie Honda 13.40.39 89.694
8th Barry Davidson Honda 13.44.90 89.155
9th Ronnie Scott Honda 14.09.80 86.590
10th Ryan McCay Honda 14.15.38 86.025
11th Nigel Bish Honda 14.16.16 85.947
12th Jeff Shaw Honda 14.37.96 83.012
13th Mick Chatterton Honda 14.51.21 82.566
14th Chris Barton Honda 14.52.05 82.489

F/lap Robert Dunlop Honda 1.52.10 93.733



---


Supersport 600 Race A 9 laps
Ryan Farquhar had made his intentions clear in practice for the 600 Race, leading the practise times and in confident mood. It was indeed Farquhar who led on the first lap closely followed by a group containing Adrian Archibald, Richard Britton, Gary Jess and Colin Rodgers. They stayed with the flying Dungannon man for two laps before he started to pull away, winning by over ten seconds.

It is interesting to note that this is Farquhar's first Irish Road Race win. Behind him, Archie, Britton and Rodgers continued their battle before the impressive Rodgers pulled out after running out of fuel. Archibald and Britton crossed the line in tandem, with Archibald just getting the verdict ahead of his close friend. Victor Gilmore overcame Gary Jess to take fourth place with newcomer Lougher in fifth beating Seamus Greene and Adrian McFarland.

1st Ryan Farquhar Kawasaki 15.43.33 100.292
2nd Adrian Archibald Honda 15.54.24 99.145
3rd Richard Britton Yamaha 15.54.72 99.095
4th Victor Gilmore Yamaha 16.00.35 97.700
5th Gary Jess Yamaha 16.16.05 96.929
6th Ian Lougher Suzuki 16.37.43 94.852
7th Seamus Greene Honda 16.38.10 94.788
8th Adrian McFarland Suzuki 16.39.01 94.721
9th Alan Egan Honda 16.39.45 94.660
10th Paul Hunt Honda 16.44.66 94.169
11th Geoff Downey Honda 16.47.90 93.866
12th Paul Truesdale Yamaha 16.52.77 93.415
13th Davy Morgan Yamaha 16.55.50 93.164
14th Tony Moss Yamaha 17.00.41 92.716
15th Julian Bull Yamaha 8 laps
16th Dermot Birdy Honda 8 laps

F/lap Ryan Farquhar Kawasaki 1.49.17 101.890



---


Supersport 600 Race B 7 laps
This race was expected to have a similar outcome to the Open Support Race with most of the same riders having their second outing, plus a couple of others making their first appearance of the day including local man David Murtagh and last years winner Julian Bull. However, Ian Forristal was first out of the blocks, pulling away from the pack and looking comfortable before the race was stopped due to a two-rider accident near to Francis Everard's house. After a long delay to clear up the debris, the race was re run over a shorter distance, with Forristal again leading the way. He went on to win by eleven seconds, and looks like he has a promising future in Road Racing - Look out for him. Behind him, Welshman Julian Bull had a lonely ride to second place ahead of David Murtagh, Ken McCrea and Richard Mooney.

1st Ian Forristal Yamaha 12.58.16 94.562
2nd Julian Bull Yamaha 13.09.90 93.156
3rd David Murtagh Yamaha 13.20.41 91.933
4th Kenneth McCrea Yamaha 13.21.97 91.754
5th Richard Mooney Yamaha 13.23.40 91.691
6th Declan Lynch Yamaha 13.38.93 89.854
7th John Scott Honda 13.45.78 89.100
8th Terry Simpson Honda 13.50.14 88.619
9th Karl Wilkie Yamaha 13.52.35 88.405
10th Gordon Taylor Honda 13.54.01 88.229
11th Dennis Booth Honda 13.54.07 88.138
12th Graham Taubman Honda 13.59.94 88.025
13th Rob Colvin Honda 14.06.68 86.909
14th Maurice Kiely Honda 14.10.32 86.537
15th Steve Carr Honda 14.42.64 83.368

F/lap Ian Forristal Yamaha 1.47.26 98.005



---


Support 400cc Race 7 laps
The Junior Support Race has produced many star riders over the last few years including Martin Finnegan and Andrew McLean in recent years. This year Ryan McCay was the star leading the race from start to finish on his 250 Honda, crossing the line thirteen seconds ahead of his nearest rival. James McCullough was that man, beating Adrian Fegan for second. Local star Donny Daly was fourth on his ex Dennis Trollope Racing Yamaha ahead of Les Hart on a similar machine.

1st Ryan McCay 250 Honda 13.44.39 89.259
2nd James McCullagh 250 Honda 13.57.00 87.022
3rd Adrian Fegan 250 Honda 14.04.53 87.130
4th Donnacha Daly 250 Yamaha 14.19.02 85.660
5th Les Hart 250 Yamaha 14.20.67 85.496
6th Herbie McHenry 250 Yamaha 14.21.68 85.396
7th Bob McIntyre 14.27.73 84.802
8th Roy Scott 250 Honda 14.28.27 84.748
9th Chris Barton 14.29.23 84.654
10th Dave Hedison 250 Yamaha 14.39.55 83.661
11th Graham Burden 400 Honda 14.40.61 83.560
12th Billy Cummins 250 Yamaha 14.51.20 82.567
13th Patrick Martin 400 Honda 15.08.58 80.988
14th Steve Carr 400 Kawasaki 15.33.66 78.012
15th Monica Floding 400 Honda 6 laps
16th Jack Dunn 250 Aprilia 6 laps
17th Dave Clarke 400 Kawasaki 6 laps

F/lap Adrian Fegan 250 Honda 1.56.06 90.574



---


Classic Race B 500/1000cc Race 7 laps
Karl Wilkie proved once again why he is one of Irelands most respected Classic Bike racers with another start to finish victory in the Classic B Race. Wilkie repeated his performance from last year with a start to finish victory over Manx regular Derek Whalley on his 500 Matchless, with Paul Coward who won the earlier Classic encounter back in third place three seconds adrift. Raymond Graham came home fourth ahead of visiting Classic Racing regular Chris McGahn.

1st Karl Wilkie 750 Triumph 14.06.49 86.928
2nd Derek Whalley 500 Matchless 14.14.64 86.099
3rd Paul Coward Honda 14.17.85 85.777
4th Raymond Graham 900 Norton 14.20.79 85.484
5th Chris McGahan 500 Honda 14.25.97 84.973
6th Robert McCrum 850 Weslake 14.46.12 83.041
7th Billy Lyle 450 Honda 15.02.56 81.526
8th Ian Gray 500 Seeley 15.27.53 79.333
9th Gary Jamison 900 Weslake 15.27.54 79.332
10th Vic Haskill 500 BSA 15.29.96 79.126
11th Maurice Wilson 500 Matchless 15.34.25 78.763
12th John Johns 500 Seeley 15.34.89 78.709
13th Freddie Stewart 950 Norton 15.53.54 77.169
14th Sam Kincaid Norton 16.57.87 76.820
15th David Manly 500 Matchless 6 laps
16th Terence Taylor 500 Norton 6 laps

F/lap Karl Wilkie 750 Triumph 1.57.95 89.123



---


250cc Race 7 laps
The 250cc Junior Race became quite complicated for the spectators with a rider from the second starting group ending up the winner. However it was Darren Burns riding Sandy McCutcheon's 250cc Honda which Darran Lindsay won last years race making all the early running. Barry Davidson was having a good run on the Royal Hotel Honda holding onto second position early on. However it was Manx Grand Prix rostrum finisher from 2000, Davy Morgan who was the man on the move. Starting from the second wave, he was cutting his way through the riders in front of him on the road.

When his race time had the 30 seconds start gap deducted, it proved that he was in fact challenging for the lead on corrected time. Burns was seemingly unaware, and eased off on the last lap, leaving the hard riding Morgan on the Crossgar Poultry backed machine to come through and take the win. Burs was unfortunate not to win with hot prospect Davidson holding on for third place. Trevor Keys came home fourth ahead of much fancied Cumbrian Bud Jackson, with Dave Coughlan having an impressive ride to sixth.

1st Davy Morgan Honda 13.01.00 94.145
2nd Darren Burns Honda 13.06.02 93.545
3rd Barry Davidson Honda 13.13.08 92.783
4th Trevor Keys Honda 13.21.13 91.850
5th Bud Jackson Honda 13.21.99 91.752
6th Dave Coughlan Honda 13.36.36 90.137
7th Robert McCrum Honda 13.39.54 89.787
8th Keith Shannon Honda 13.40.55 89.676
9th Phil Archer Honda 13.48.79 88.785
10th Barry Wood Honda 13.50.46 88.606
11th Les Hart Yamaha 13.51.46 88.500
12th Trevor Dunlop Yamaha 13.53.50 88.203
13th James McCullagh Honda 13.54.32 88.196
14th Bob McIntyre 14.02.77 87.312
15th Chris Barton Honda 14.03.33 87.254
16th Sean Leonard Honda 14.15.22 86.041
17th Roy Scott Honda 14.20.90 85.473
18th Dave Hedison Yamaha 14.22.03 85.361

F/lap Darren Burns Honda 1.49.67 95.851



---


Open 1000cc Race 8 laps
The question on everyone's lips at the start of the Open Race was 'Could Archibald beat Farquhar?' We were about to find out. Archibald led away on the works Honda, but Farquhar on the McAdoo R1 Yamaha was hot on his tail and it wasn't long before he had squeezed passed on the run up to Glasshouses. Behind them there was a three-way battle for third with Richard Britton, John Donnan and that man Colin Rodgers swapping positions on a regular basis.

Back at the front and Farquhar continued to lead, but this time there was no shaking Archibald. When Farquhar made a slight mistake going into Dublin Corner two thirds of the way in, Archibald nipped through. He managed to put enough space between himself and the twenty four year old Farquhar to be safe for the victory, crossing the line one second ahead. Donnan held off Britton for third with Colin Rodgers only a second down in fifth. Gary Jess had a lonely ride for sixth ahead of a great battle between Seamus Greene and his great friend Victor Gilmore, with Gilmore just getting the better of the Letterkenny man at the end.

1st Adrian Archibald 960 Honda 13.53.46 100.900
2nd Ryan Farquhar 1000 Yamaha 13.54.55 100.768
3rd John Donnan 1000 Yamaha 14.08.06 99.163
4th Richard Britton 1000 Yamaha 14.08.62 99.097
5th Colin Rodgers 600 Yamaha 14.09.21 99.029
6th Gary Jess 600 Yamaha 14.09.79 98.961
7th Victor Gilmore 1000 Yamaha 14.24.66 97.269
8th Seamus Greene 1000 Suzuki 14.25.42 97.174
9th Paul Hunt 1000 Yamaha 14.37.94 95.788
10th Alex Donaldson 900 Honda 14.39.88 95.577
11th Ian Lougher 600 Suzuki 14.42.11 95.335
12th Alan Egan 600 Honda 14.49.10 94.586
13th Geoff Downey 600 Honda 14.53.05 94.167
14th Paul Truesdale 600 Yamaha 14.55.70 93.889
15th Ian Smith 1000 Yamaha 14.56.26 93.830
16th Tony Moss 600 Yamaha 15.02.32 93.200
17th David Murtagh 600 Yamaha 15.03.35 93.093
18th D Madsen-Mygdal 750 Honda 15.18.00 91.608
19th Dermot Birdy 1000 Yamaha 15.26.12 90.805
20th Gordon Taylor 600 Honda 7 laps

F/lap Adrian Archibald 960 Honda 1.41.68 103.383



---


125cc Race Two 7 laps
For the second 125cc race, Robert Dunlop was hoping for an easier ride than the previous outing, but it wasn't to be. Again Curtain led away from the line with Lougher and Dunlop right on his heels. After the first lap both Lougher and Dunlop had got past Dubliner Curtain. Robert got passed Lougher at about mid distance, and everyone thought that he would pull away from that point, but Lougher was on the gas this time, and was not prepared to give up without a fight. He passed the Ballamoney ace several times between that point and the end of the race, but each time Dunlop sneaked back past.

When it came to the finish it was Robert who led crossing the line less than a bikes length ahead of newcomer Lougher. Marc Curtain finished a distant third place ahead of Nigel's Moore and John with Darren Burns in sixth. Another name to note in the 125 class was New Zealander Nigel Bish making his debut in Ireland and having only his second ride in two years, his first being last years TT. He finished a creditable eleventh place in both races.

1st Robert Dunlop Honda 12.58.44 94.520
2nd Ian Lougher Honda 12.58.99 94.461
3rd Mark Curtin Honda 13.21.97 91.754
4th Nigel Moore Honda 13.24.53 91.462
5th Nigel John Honda 13.25.59 91.342
6th Darren Burns Honda 13.29.19 90.935
7th Trevor Ritchie Honda 13.30.90 90.735
8th Ronnie Scott Honda 13.55.90 88.030
9th Rikki McCready Honda 14.03.10 87.373
10th Sean Leonard Honda 14.13.20 86.245
11th Nigel Bish Honda 14.15.91 86.972
12th Chris Barton Honda 14.22.87 85.279
13th Mick Chatterton Honda 6 laps
14th John McLean Honda 6 laps

F/lap Ian Lougher Honda 1.40.92 96.511



---


The Grand Final 7 laps
The Grand Final was the icing on the cake for one of Irelands best Road Races for some time. Everyone expected another titanic duel between Archibald and Farquhar, but Ryan was going to find it more difficult this time out, starting on the second row of the grid. So when the flag dropped it was indeed Archibald who led them into Dublin Corner with Farquhar stuck in the battle for second place with Victor Gilmore, Richard Britton, John Donnan and Colin Rodgers.

At the end of the lap it was still Archibald who was putting some fresh air between himself and the chasing pack. Farquhar knew this, and tried to make a pass on the group he was stuck in, so he could chase after the Honda man. However he went into Dublin Corner too hot, ending up the slip road and down in sixth place. Archibald was unchallenged and continued to pull away lapping at an amazing 102mph which is only 3mph under the lap record, and that is with the new chicane in place. He crossed the line thirteen seconds in front in the shortened race due to an accident involving Alan Eagen.

Back with the chasing pack, Victor Gilmore had the ride of his life to come home second, just piping Britton for third, with Farquhar back up to fourth and John Donnan fifth. Colin Rodgers continued his good form with a sixth place ahead of Seamus Greene, Alex Donaldson and Ian Lougher. Barry Davidson who finished in sixteenth position was the first 250cc rider home and he picked up the new Gary Dynes Trophy and a whopping £700 prize money for his effort, donate by Joe Wright and the regulars at the Fingals Cave Pub in Skerries.


1st Adrian Archibald 960 Honda 12.06.33 101.309
2nd Victor Gilmore 1000 Yamaha 12.19.61 99.490
3rd Richard Britton 600 Yamaha 12.19.70 99.478
4th Ryan Farquhar 1000 Yamaha 12.20.90 99.330
5th John Donnan 1000 Yamaha 12.21.42 99.247
6th Colin Rodgers 600 Yamaha 12.23.55 98.448
7th Seamus Greene 1000 Suzuki 12.27.44 98.448
8th Alex Donaldson 600 Honda 12.32.25 97.819
9th Ian Lougher 600 Suzuki 12.40.57 96.748
10th Adrian McFarland 600 Suzuki 12.49.81 95.587
11th Geoff Downey 600 Honda 12.55.45 94.892
12th D Madsen-Mygdal 750 Honda 12.57.39 94.655
13th Alan Egan 1000 Yamaha 12.59.72 94.372
14th Dermot Birdy 600 Honda 13.05.60 93.666
15th David Murtagh jnr 600 Yamaha 13.06.97 93.502
16th Barry Davidson 250 Honda 13.11.28 92.994
17th Julian Bull 600 Yamaha 13.12.22 92.083
18th Keith Shannon 250 Honda 13.16.85 92.344
19th Bud Jackson 250 Honda 13.19.26 92.065
20th Barry Wood 250 Honda 13.26.72 91.214

F/lap Adrian Archibald 960 Honda 1.42.20 102.057



So all in all a great day's racing at Skerries even if the sun didn't shine as we all hoped. Although there were one or two incidents during the day, no one was seriously hurt, and the record crowd went home fulfilled after seeing some of the best road racing for a very long time. Roll on Killalane!



Back to Features Index