Jefferies talks about Ulster outing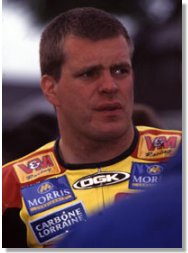 The V&M Racing Team are pleased to confirm they shall be attending the Ulster Grand Prix, after reaching a last minute agreement with the organisers to field TT star and Ulster Grand Prix winner, David Jefferies in this years races. The Yorkshireman, who is the fastest rider ever around the 7.401-mile Dundrod circuit, will be racing the V&M;R1 and R6 Yamaha's in the Superbike class and the 600cc race, as he bids to continue his winning streak on the roads, for the third year running.

"I'm over the moon to be going back to the Ulster," said Jefferies. "I've enjoyed a lot of success on the V&M bikes on the Dundrod circuit, with two wins last year, and a win and a lap record in 1999. It would be nice to keep the record going in 2001." It will be a hectic period for the V&M Racing Team, who will rush back from the Knockhill British Superbike round, to their Manchester base, to finish assembling the Formula 1 engine in readiness for the event.

"The mechanics will have their work cut in the run up to the meeting," said V&M boss Jack Valentine, "but we're all looking forward to going over to the Ulster GP. The atmosphere is unique and the Irish fans are so enthusiastic about their racing. I'm really pleased we've been able to reach an agreement to take David over, and I'm sure he won't disappoint them.

" David Jefferies track record around the Dundrod circuit on the V&M Yamaha's over the last couple of seasons is second to none. He first competed at the Ulster Grand Prix in 1999, scoring a win and a second place in the Superbike races, and taking the race and lap records. He also finished in second place in the Supersport 600 race. In 2000 Jefferies won both Superbike races and finished in fourth place in the Supersport 600 race. He also claimed the outright circuit lap record at a speed of 126.858mph, on the 175bhp V&M Racing R1 Yamaha.




Back to Features Index