A Run for "Yer Maun" 2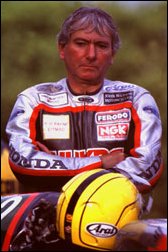 Sunday 19th August 2001
Following the tragic death of Joey Dunlop in Estonia last year Gerald Degnan one of his many fans looked for a way to pay tribute to his hero.

With the help of some friends he organised "A run for Yer Maun" which took place the day after the Ulster Grand Prix races, and included a lap of the circuit as part of the route. The event attracted approximately 500 bikes, and raised in the region of £2,500 for the Joey Dunlop Benevolent fund, this year it is hoped to have over 1000 bikes taking part and raise at least £5000 for two excellent causes.

Dr Fred McSorley and his work in providing medical cover at motorcycle racing events, and the families of injured riders. The run this year will see a host of the countries road and track racers taking part including Adrian Archibald, Gary Dunlop, Adrian Coates, and subject to commitments Jeremy Mc Williams.

All of the major motorcycle outlets are supporting the event in various ways and by donating prizes for a raffle, including a limited edition Arai Joey Dunlop replica helmet from Gary Ardle of Kickstart Motorcycles. The run will be starting at Harry Ramsden's car park at York Gate Belfast, meeting from 10.00am, and leaving promptly at 11.30am. Tea and coffee will be provided courtesy of Harry Ramsden's while you wait, Kenny Kirk will be entertaining the crowds with a stunt riding demonstration, and May McFettreich will be there to wave us off.

The route for the run covers 130 miles around the shores of Lough Neigh, and will finish at the Cables Restaurant, Whiteabbey, which is part of the "Northern Telecom Athletic & Social Club and will be available exclusively for the day to provide food and hospitality for all participants and their friends. So what are you waiting for, make sure you have the day free to take part in a ride out on a scale never seen before, and help some worthwhile causes.

For more details about this event contact Gerald on (+44) 077 5472 4460 or by sending an email to Roger Gillespie - rag@pfsni.freeserve.co.uk

This event has the consent of the Dunlop Family.




Back to Features Index