Ulster Grand Prix 2001 - Preview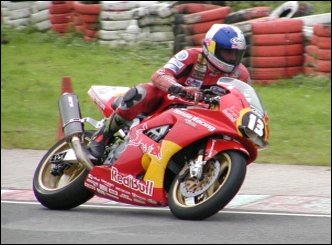 Adrian Archibald



The 2001 Ulster Grand Prix will be the biggest Road Race of the year after the North West 200 and Isle of Man TT were cancelled due to the Foot and Mouth epidemic. Billy Nutt has managed to secure a bumper entry for the eight race programme and if the weather holds out, we should be in for a great days racing.

The two main Open races are being billed as straight battle between current 'King of the Roads' David Jefferies from Yorkshire and Ireland's latest hero, Adrian Archibald, although I can't see it being quite as simple as that.

Archibald has been superb this season, dominating on the Irish Road Races, whilst performing consistently on the Short Circuits both at home and in the UK. His determination is second to none, yet from what I've seen he has looked smoother than years gone by, and more focused on the job in hand. The works Honda is flying and he knows his way around Dundrod. He has never had a better opportunity to establish himself as the V &M backed Jefferies' main rival.

Jefferies has not enjoyed his best season in 2001. He has not raced on a public road circuit all year, and in his defence of the British Supersport Championship, he has often struggled against the mighty new Suzuki's. However, he is still the man to beat, and will be able to focus on the Open races, with not taking in the 600 and Production races like his rival Archibald.

Ian Duffus will now ride his new Suzuki, and the highly rated Scot will be expected to do well here. However, it is believed that the machine will be in production trim, and he is another with only limited mileage under his belt in 2001.

Welsh ace Ian Lougher is a rider of unrivalled experience but he has had a stop start season due to the cancellation of most of the meetings he rides in. However, if they can get Hector Neill's works Suzuki working well for the 2000 600 Race winner, he should at least bee good enough for a rostrum finish.

Another Welsh rider not to be forgotten is Jason Griffiths. He is something of a Dundrod specialist, and with a super trick R1 underneath him, he could prove to be THE dark horse.

Supporting Archibald in the local effort is Ryan Farquhar. The young Dungannon rider has been Archibald's main rival on the Irish Roads in 2001, being the only man to beat him on the roads this year at the Skerries 100 in July.

Riding Winston McAdoo's ex Philip McCallen R1 Yamaha, he is improving all the time, and he certainly has the talent to become one of the best road racers around, based on current progress. He is another rider who will believe he can finish on the rostrum, and I wouldn't be surprised if he did just that, particularly if it rains.

Other home riders to look out for are Richard Britton who admits Dundrod isn't his favourite place, but should still feature, Brian Gardiner who always ups his pace here, John Donnan who is enjoying a good season and the popular Seamus Greene amongst others.

There are other riders from outside of Ireland who will be hoping for top ten finishes as well including Manx duo of Paul Hunt and Newcomer Richard Quayle and 200 Junior Manx Grand Prix winner Keith Townsend. 125 Racing on the roads has been robbed of a lot of its better riders over the past two seasons, however the action should still be frantic in this popular class.

Robert Dunlop will start as favourite on current form, but Ian Lougher will not let him have it all his own way, and will be very disappointed to finish second on his Mannin Collections / Lloyds TSB Honda. There are a host of Irish riders who will be battling it out with the two favourites including Marc Curtain, Davy Lemon (who has been successful at Dundrod over the years), Victor Gilmore, Rikki McCready, Darren Burns and Barry Davidson.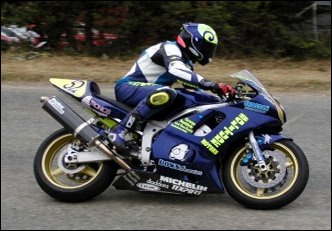 Gary Jess




Others to look out for include Shaun Brown who has enjoyed success at Scarborough this year, Welsh Ace Nigel 'Speedy' John and Ashley Law making a rare appearance on a 125. The Production Race has the lowest entry somewhat surprisingly and last years winner Adrian Archibald will expect to repeat his success. He won't have it all his own way though with Lougher and Ian Duffus expected to provide the strongest opposition.

Richard Britton can't be ruled out and Ryan Farquhar should again provide problems this time on board Dean Cooper's R1. Ulster Newcomers and Manx Grand Prix winners in 200, Seamus Greene and Martin Finnegan will be expecting to feature, as will Adrian McFarland, Paul Hunt and Alex Donaldson. For the first time ever at the Ulster a Newcomers Race has been included into the programme, which has proven a hit already with a massive entry.

It promises to be one of the most interesting races of the day, with so many riders to take into the equation who are unknown quantities around Dundrod. Manx Centre Champion Richard Milky Quayle is the smart money favourite riding Mark John's RC45. The machine knows it's way round Dundrod, winning the two Superbike races at last years Dundrod 150 in the hands of Brian Gardiner. Milky has spent time in Northern Ireland this year learning the course and will be hard to beat.

However he won't have it all his own way, and I think his main threat will come from softly spoken Donegal rider, Seamus Greene who has enjoyed a great season this year, and just gets faster each time. He has put a lot of miles on his Investasure Suzuki, and has it going to his liking.

Gary Jess is widely tipped as one of Irelands best prospects on the Roads, but some feel his style is more suited to the twisty, stop - start circuits rather than Dundrod's fast sweeping bends. Time will tell, but the brave rider who only a year ago was fighting for his life after a crash at Kirkistown, will definitely be there or there abouts on the Beacon Security R1.

Martin Finnegan goes into the race as a bit of an unknown quantity. He will have his first outing on the GSXR Suzuki Woosley Coulter has ridden this year in the British Superstock Championship. He hasn't enjoyed the best of years either in the British Junior Supersport Championship, but his talent on the roads is undoubted, and it would be good to see a 21-year-old rider scoring a good result on the roads in such competitive company. Manx Grand Prix winner Keith Townsend is another rider who should go well on past form and the circuit should suit him and his Ducati. A lot will depend on how quickly he can learn the circuit.
The massive entry includes loads of other riders who I wouldn't be surprised to see near the front such as Geoff Downey, Bruce Anstey, Mark Parrett, Ian Smith and Paul Trusdale amongst others. It really is going to be a bit of a lottery, but should provide a great spectacle and Billy Nutt should be congratulated on his foresight to include this race in this cancellation ravaged season.

The usual suspects should be battling it out at the front of the 600 class yet again including Archibald, Lougher, Griffiths and Britton. It is unclear at the moment as to whether Ian Duffus has been able to track down a suitable machine for this race, but if he does the 1999 winner should not be discounted.

Ryan Farquhar could provide a surprise here after some great results this year on the McAdoo Kawasaki and he is pleased with the way the machine is going. Adrian McFarland, Alex Donaldson, Milky Quayle, Paul Hunt, Gary Jess, Seamus Greene, Martin Finnegan and Davy Morgan are just some of the other riders who will be hopeful of finishing the top ten in this race. Again it is a large entry, and a lot will depend on the weather and machine set up on the day and it could prove to be the race of the day. There are two Classic Races at the Ulster again this year, and both are well supported.

The smaller capacity one for 250 and 350 machines features most of the leading riders on the Classic scene including the almost legendary Bill Swallow, Colin Rodgers, the evergreen Dennis Gallagher, MGP record replica winner Mick Robinson and Chris McGahn amongst others. Not being a Classic expert, it is hard to call a favourite in this one, but with the ageless Gallagher's record at Dundrod, do not be surprised to see him pull another victory out of the bag.

The Open Classic Race features more of the same and will close the programme. Karl Wilkie on his 750 Triumph has enjoyed much success over the last few years and will be hard to beat in this one. However Gallagher and Swallow will feel that they have what it takes, and the likes of Tony Myres, Mick Robinson, Larry Devlin, John Loader and Wallace Seawright amongst the other well known names, should make it a fitting finale to the days action.

There are also to be two Classic Parades throughout the race weekend starring multi World Champion Phil Read and Irish legend Ray McCullough amongst others. If you are not going to this years Ulster Grand Prix you are missing out on what has the potential to be the best Dundrod meeting for years.

There will be plenty of coverage on the Internet, not least by us through our Irish Correspondent Stephen Wilson, and look out for our own report later on next week. Please come and say hello to us if you see us in the paddock, and make sure to enjoy the 2001 Ulster Grand Prix!


Paul Phillips